One of the many reasons we love San Juan Island is the vibrant arts scene. We are blessed with more working artists per capita here than anywhere else in Washington State. Friday Harbor has seven art galleries and five museums to explore and that's not all. There are other places dedicated to arts and crafts all over San Juan Island. For a truly amazing peek at the many artists who make San Juan Island their home, visit during the San Juan Island Artists Studio Tour in June.
Text Editor

Starting in Friday Harbor, there is a lot of art to be seen within a short walking distance from Earthbox. For high quality, diverse shows stop in at the Waterworks Gallery that routinely displays sculpture, paintings and jewelry from top, Pacific Northwest artists. 

Further downtown is the Arctic Raven Gallery, displaying artwork from Arctic and Northwest Coast Native Americans.  The gallery displays a collection of masks, wood carvings and prints from local tribes including Coast Salish, Kwagullth, and Makah nations.

San Juan's own art museum, the San Juan Islands Museum of Art (IMA),  is just a block from the Earthbox and makes it its mission to provide engaging shows of Northwest and Southwest Canadian artwork. 
Image
Image
Text Editor
At San Juan Island's north end, near the Roche Harbor resort, find the Sculpture Park along beautiful Westcott Bay. The 20 acre park displays over 150 works of art, as well as forest, meadow, and water side trails to enjoy. 
Since you're out on the road, explore some of the other arts and crafts the island offers. Visit Krystal Acres Alpaca Farm  and watch those funny animals from the viewing platform. Visit the country store for luxurious alpaca wool clothing and accessories, as well as island made alpaca wool, and toys. 
Further down the island follow the scent of lavender to the Pelindaba Lavender Farm.  Enjoy fields of fragment lavender, decorated with gorgeous sculptures, and a store full of lavender crafts, eatables and bath products. We at the Earthbox source all the body care products for our guest rooms from the lavender farm. Your shampoo has traveled less than you!
Image
Image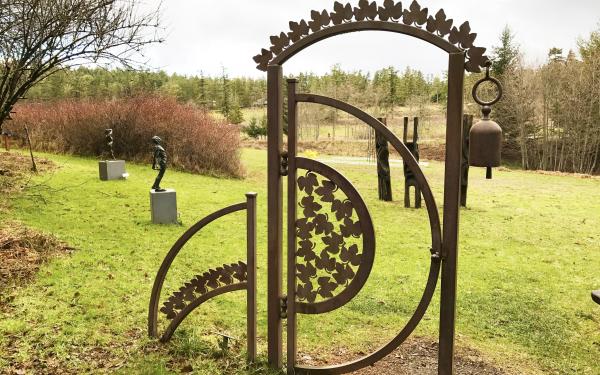 Book Your Stay at Earthbox Today!