Travel Advisory: Know Before You Go
Everything is better together!
Remember how much fun and productive work was after that last team building retreat when you all went kayaking? Is it time to get the family together for Grandpa's 80th birthday? Want to wow the guys with the next great group escapade? Are you and the girls ready for that spa getaway? Not sure what to do for that bachelorette party or where to host your next yoga retreat? We might just be what you need with 72 guest rooms, an indoor pool, sauna, hot tub and exercise room, a full-service spa, a conference room, and commercial kitchen all waiting for you.
Our team of group coordinators are ready to help create the perfect group getaway, everything from rooms, spa treatments, kayak, whale watch and zip line tours, to a well-catered business meeting in our conference room.
Tell us about your needs for your next group outing, meeting, or retreat with our group request form.
Or call us at 800.793.4756.
We can't wait to talk to you!
Text Editor
Room inventory
Extra Person/Rollaway (12+) = $15 per night
Pet fee = $25/pet per night (select rooms only)
2 night group minimum
Image
Image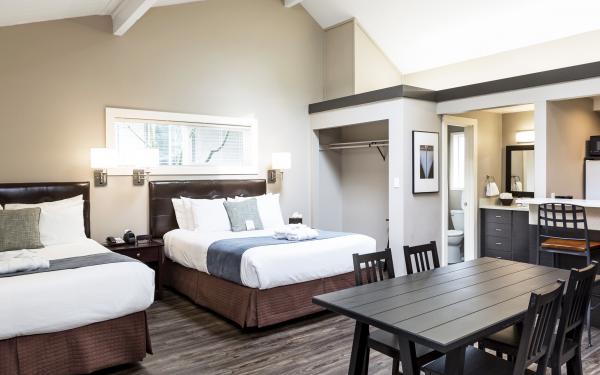 Text Editor
Conference Room
Maximum capacity: 100
Maximum seated: 75
Size 67' x 25' = 1675 sq ft (dividable into two separate areas)
Cost $275 plus tax per day 
Table setup is $5 per person
Kitchen
Fully stocked kitchen, place sets for 75+
Cost:  $275 plus tax per day (cannot be rented separately) 
We can get you in touch with sensational island caterers for each taste and budget.
Image
Image
Text Editor
Weddings
San Juan Island is the canvas for the wedding you have always dreamed of.  Whether it's the rustic and romantic outdoor wedding in the blooming fields of the Pelindaba Lavender Farm; the old-fashioned wedding in a historic chapel on the gentle slopes of the San Juan Vineyard; an intimate ceremony along the dramatic shores of the Whale Watch Park to everything in between, San Juan Island offers many spectacular and scenic matrimonial options.  While most lovers tie the knot on San Juan Island in the Summer, our rain-shadow-sheltered isle offers lovely, romantic, indoor and outdoor spaces to enter holy matrimony virtually year-round, plus the professionals, services and accommodations needed to make your big day a breeze. Come on up and see for yourself!
Use our group request form to tell us about your needs for your next group outing, meeting, or retreat with or call us at 1.800.793.4756.
Group Reservation Policies:
To hold your group's reservation, we require 10% non-refundable deposit at the time of reservation.  Full payment is due 30-days' prior to check-in.  You may cancel your group's reservation, packages, adventures and massages you may have booked through us for any reason, at no further charge beyond your non-refundable deposit, if you give us notice more than thirty (30) days before your scheduled arrival. However, if you cancel, change, or reduce your reservation with less than thirty-days notice, we will still have to charge your group for the full amount of your reservation, including applicable taxes. Additionally, there will be no refunds for early departures or unused portions of your reservation, packages, adventures and massages you may have booked through us. We adhere to this policy without exception. If you must cancel your reservation, please contact us right away. Reservations are not considered canceled until you receive a cancelation number from Earthbox Inn & Spa.