As a small, family-owned hotel on this beautiful island with its fragile ecosystem, where everything needs to be shipped or flown over and resources are limited, we are continuously asking ourselves how to balance eco-friendliness with feasibility, how to provide comfort and luxury without compromising being green. Here are 27 eco-friendly things we have implemented - from buying as many local products as possible thus minimizing waste, to using environmentally-responsible products throughout.  We strive to keep our footprint small to ensure this precious island, the glistening Salish Sea surrounding it and our hotel will be worth visiting for all of us--for you, for our children, for our grandchildren.
Text Editor
1. When we bought the Earthbox Inn & Spa in 2000, it was essentially a defunct 60's motor inn. Instead of tearing it all down and putting up a cookie cutter hotel with all new materials, we renovated it!  
Our Earthbox is a work in progress. A labor of love. Every winter we set aside time and money to update, renovate, refurnish and- where possible - to add more gardens.
2. The shampoo, conditioner, body wash and lotion in our guest rooms come from the local Pelindaba Lavender Farm and are certified organic. We are using wall dispensers rather than many tiny plastic bottles to cut down on plastic use. If you love those products as much as we do (oh, the lotion…), pick some up in our cute gift shop. You can request non-lavender products in your room upon arrival. Those do come from off-island.
Image
Image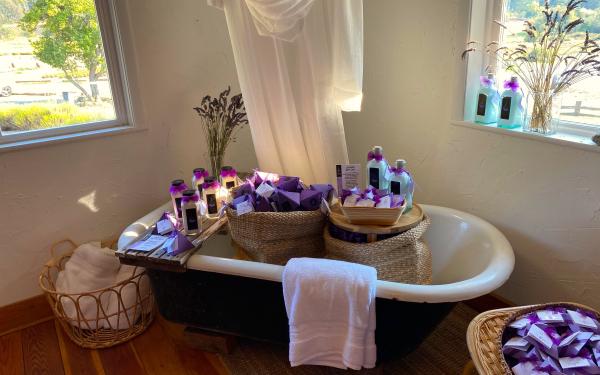 Text Editor
3. Of course, good coffee is a must. We provide Tayst compostable coffee pods for our Keurig coffee makers to help reduce the plastic waste that pollutes our Earth.
4. We use wooden stir sticks instead of plastic straws.
5. Speaking of good coffee: the complimentary coffee we serve in our lobby is from the local San Juan Coffee Roasting Company, which only buys from small family farms growing shade-grown coffee without the use of harmful pesticides. Their shop is down by the ferry landing. They also make truffles, yummm.
Image
Image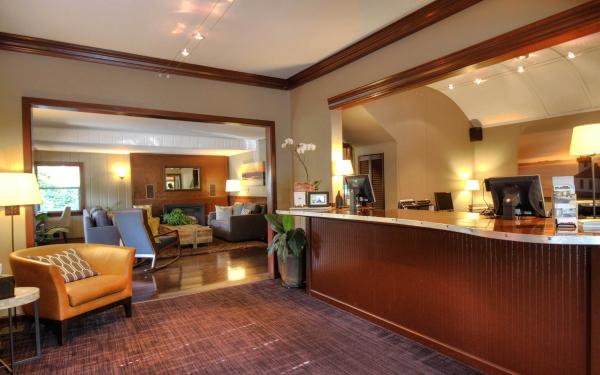 Text Editor
6. We offer filtered water in our lobby for guests to fill their water bottles rather than buying single-use plastic bottles.
7. All of our single-use "silverware" is made from compostable cornstarch. 
8. Our adorable Spa at Earthbox offers not only the most soothing massages, facials and body treatments, but also, among other product lines, the amazing natural based Dermaki Skincare.
Image
Image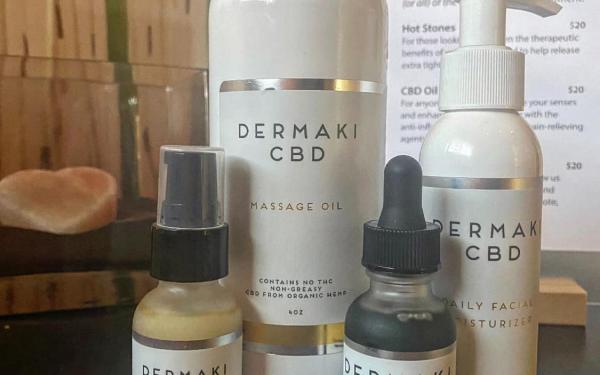 Text Editor
9. The delightful gift shop in our lobby features local souvenirs and goodies, cutting down on our carbon footprint to deliver goods from off-island and supporting local artists and makers.
10. We offer freshly washed and sanitized mugs and glasses in our guest rooms as opposed to Styrofoam or plastic cups.
11. Our check-in and check-out process is paperless.
12. We've gone almost entirely digital, but when we must print things, we do so on Sustainable Forest Initiative certified paper.
Image
Image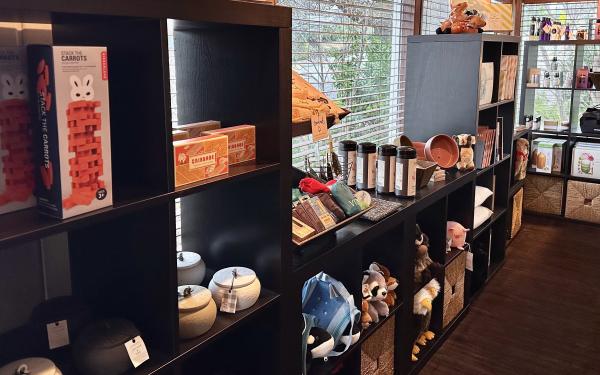 Text Editor
13.We have two electric car charging stations on our property.
14. We have a well on the property (Spring Street, get it?), which we use to irrigate and fill our pool, cutting down on using precious municipal water from our very fragile watershed.
15. We installed energy saving LED light bulbs throughout the property. 
Image
Image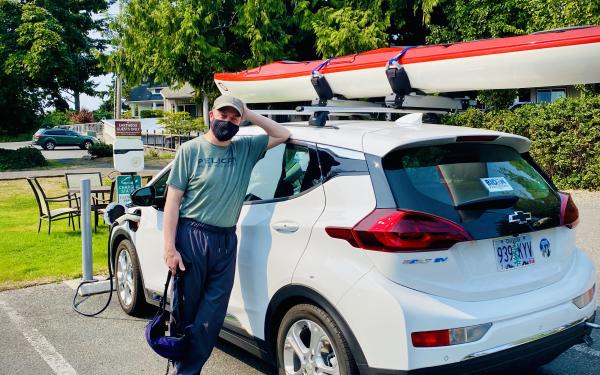 Text Editor
16. The impact of hotel laundry on the environment is not lost on us. If you'd like to help without compromising your comfort, please re-use your towels.
17. Our laundry detergent is biodegradable.
18. We use e-cloths for all of our cleaning, no chemicals, just water and the bacteria killing cloths. We admit, we do resort to bleach to do heavy sanitation when necessary.
Image
Image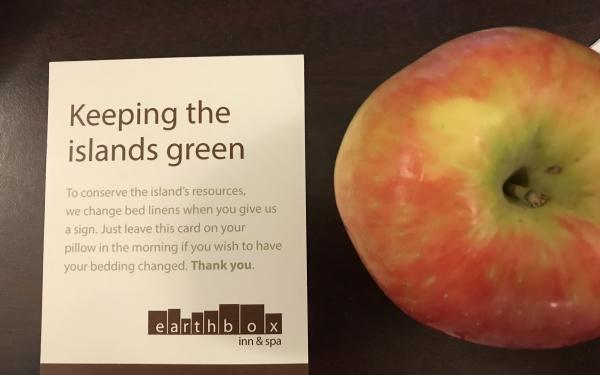 Text Editor
19. When a toilet needs replacing, we replace them with (rather expensive) low-flowing toilets, which only use 1 gallon of water per flush. 
20. We recycle glass, paper and cans.
21. While our property is non-smoking, we have a tiny, comfy smoking section in one of our gardens with safe receptacles. We send the cigarette waste to Terracycle, a company, which cleans and separates the waste by material type. The materials are then recycled into raw formats that manufacturers use to make new products. The ash and tobacco are separated out and composted in a specialized process. So much better than the landfill.
Image
Image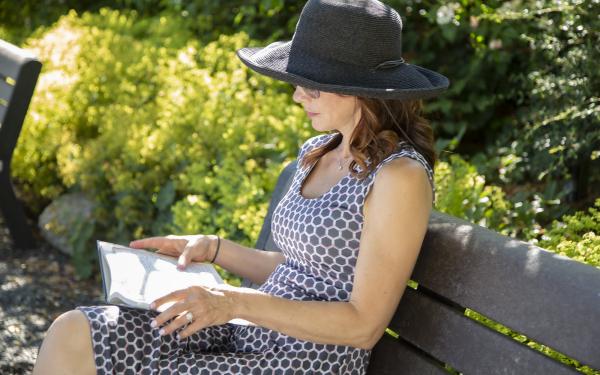 Text Editor
22. We use battery-operated lawn and garden tools instead of gasoline ones wherever possible.
23. We employ fake wasp nests instead of pesticides to deter wasps. Wasps are territorial and don't set up camp when another nest is already in the area. Works amazingly well.
24. We use vinegar, salt and soap instead of Roundup to control weeds and moss on our property.
Image
Image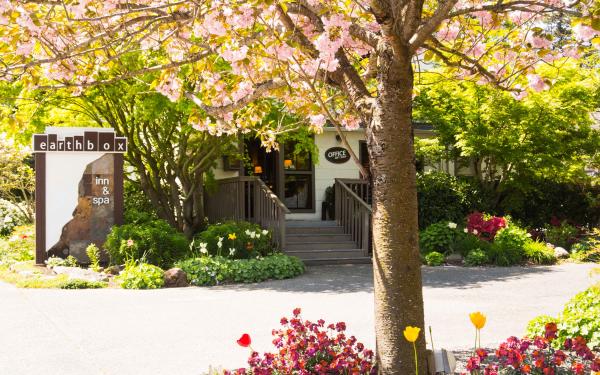 Text Editor
25. Every Earth Day all of us participate in the "Litter Free by the Sea" island-wide beach clean-up. You are invited! Learn more about this fun event Earth Day on San Juan Island here.
26. We sponsor, promote and donate to environmental and social causes every month. Email us your cause to be entered into our monthly raffle.
27. We run blogs on three websites, emphasizing not only the fun stuff to do on the island, but also the fragility of our little paradise, the need for stewardship and what guests and visitors can do to help. You are reading one right now, thank you!
Image
Image