We here at the Earthbox Inn & Spa participate in the Great Island Beach Clean-up for Earth Day every year. Our hotel starts to get busy in the Spring (Thank you!), yet we aren't staffed for Summer. That makes it difficult to schedule extracurricular staff outings, especially on the weekends. I love our crew and their dedication so much. At last year's event our morning crew joined us at the beach in the early afternoon, our evening crew left the beach early to tend to our guests. All to make a difference, to get our beaches and road sparkling clean before the season starts, to be in touch with our beautiful island's ecosystem and challenges. Thank you guys, for doing it all!
Text Editor
We partnered with the San Juan Island Food Coop for our beach clean-up and were assigned 4th of July Beach and Jakles Lagoon in American Camp National Historic Park. On the way to "our" beach, we drove by street litter crews and garbage drop off spots in town. It felt like the entire island was cleaning and caring that morning. We all waved at each other. We met at 10:00am with park rangers and Jana from San Juan County, to obtain our bags and gloves and a quick spiel about our assignment. Littering is not the big problem on San Juan Island. It's garbage swept onto our beaches, after falling off boats or coming all the way from other coastlines after storms. Then, as is the case at Jakles Lagoon, plastic and Styrofoam gets trapped behind the tide line, deteriorates and becomes microplastic. To fish and birds that tiny litter looks like food and we know the rest.
Image
Image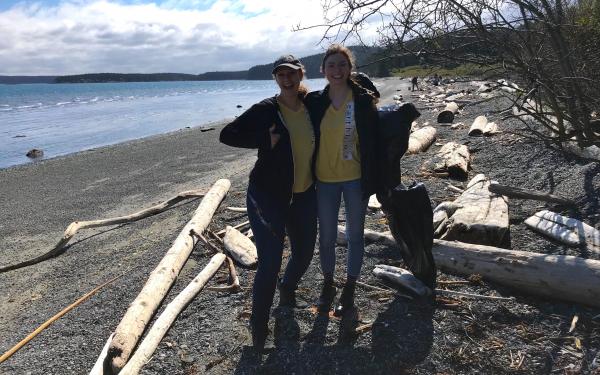 Text Editor
Just as Jana from the County had described, when we first walked onto 4th of July Beach we didn't see any garbage, but after a while, just like when mushroom hunting, microplastic was everywhere: under the seaweed at the tide line, under logs, swimming in the lagoon. We got busy.
Time flew as we all filled our garbage bags, sat in the sun and had snacks, watched sea lions and eagles and uuuhhed and ahhhed at the strange things we found, like an entire crab pot and candy wrappers from Japan. We loaded our garbage and made our way back to Friday Harbor to the garbage drop off spot.
At the drop-off spot our garbage got weighed and logged, volunteers sorted recyclables, others made garbage art and we all received $1 beer coupons to be redeemed at San Juan Brewing, where our crew met for a well-deserved after party.
Image
Image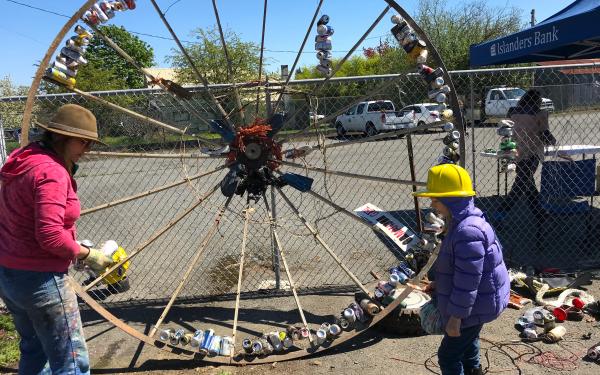 Text Editor
San Juan Brewery was packed with volunteers after the island clean up. Their woodfired pizza and delicious brews was just what we needed after our busy day. We can't wait for next year! Contact us if you want to join us this year, yes?
And here, the day in numbers:
SAN JUAN TOTALS:
Miscellaneous waste: 960 lbs
Sorted Recycling: ~500 lbs
Volunteers: 161
Road Miles: 45
Beach Miles: 5
Total Miles: 50
Waste Per Mile: 29.2 lbs
Pretty cool, isn't it?
Image
Image