I'm not exactly what you call a "water person" and to tell you the truth, the thought of sea kayaking in the Pacific Ocean, even with my experienced friend in the same kayak and an even more experienced guide in the next, frightened me some. But this is what life and adventure are all about: find your boundaries and gently push, or paddle as the case may be.
Text Editor
We made our three hour kayak tour reservation through the Earthbox Inn & Spa staff with the San Juan Outfitters out of Roche Harbor. It was a sunny May day, T-shirt & shorts weather, the marina was pulsing with life. There was a fisherman cleaning Dungeness crab, Roche Harbor staff preparing a tent on the docks for a wedding, enormous yachts coming and going, border patrol granting dinghies access, dogs with life vests, kids with ice cream.
My last minute fears included, but were not limited to: thoughts on whether I'm fit enough, falling into the water, loosing my purse, camera, phone, embarrassing my friend by paddling too slow, having our entire group turn around because I just couldn't do it, and other such things.
Image
Image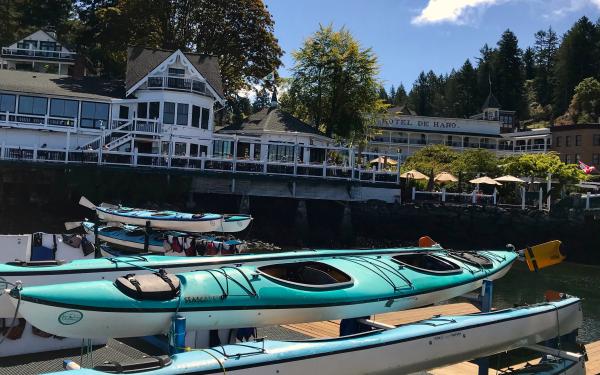 Text Editor
What to Wear
Layers & a hat. It is always colder on the water than on shore and you can always take clothes off. I wore swim shorts, easy drying cargo pants (cotton gets heavy & cold when wet), river sandals, sports bra, t-shirt, sweat-shirt, wind breaker, baseball hat & sunglasses. What I didn't wear, and wished I did, was light gloves. My hands were wet a lot, more to that later.
What to Bring
Very important: Sunscreen. Even on cloudy days, which ours was not, the water's reflection is intense. Drinking water in a metal or plastic bottle, granola bars, fresh fruit and trail mix. A zip lock bag with your camera and/or phone. Band aids if you have tender princess hands like me. A small back pack you can leave at the dock with a change of clothes, for when you have your celebratory cocktail, so people don't look at you funny for having a wet bottom.
Image
Image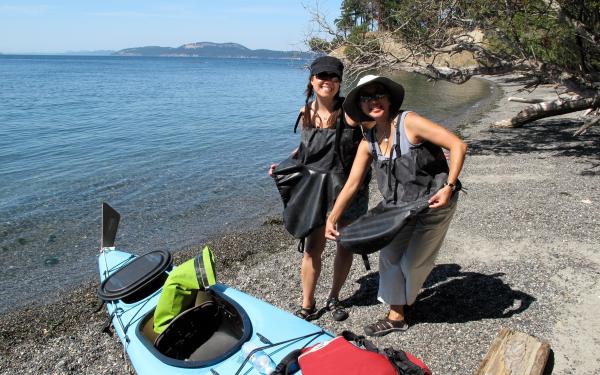 Text Editor
The staff at San Juan Outfitter's booth on the docks was fantastic, funny, efficient, and super friendly. They had us sign release forms and stowed the things we didn't need or want to bring.  We got fitted for a sort of skirt with suspenders, which was fastened to the kayak so no water could come in (except for the tiniest bit) and life vests. We introduced us to the rest of our group. There was a family with kids from Seattle, an older couple from the South and two other women our age from Europe. Our guide Tim gave us a short introduction on safety and sticking together when crossing high boat traffic areas and off we went.
Image
Image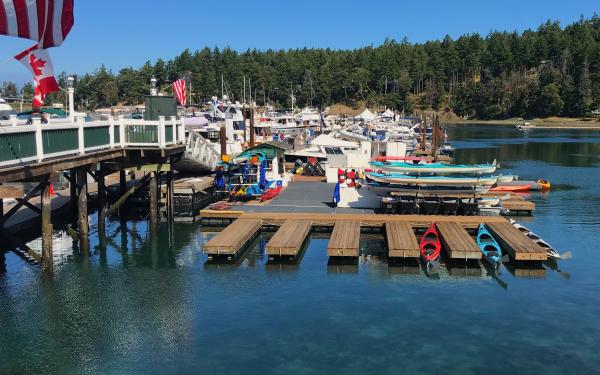 Text Editor
Getting into the kayaks, something I had pondered nervously the night before, was too easy, thanks to the finger slips. We fastened our skirts to the boat, got our things situated (water out, sweater stowed below, camera in zip lock bag out) took our paddles and got a gentle push. All my nervousness vanished. The kayak was stable, gently rocking back and forth, I felt absolutely safe.
Image
Image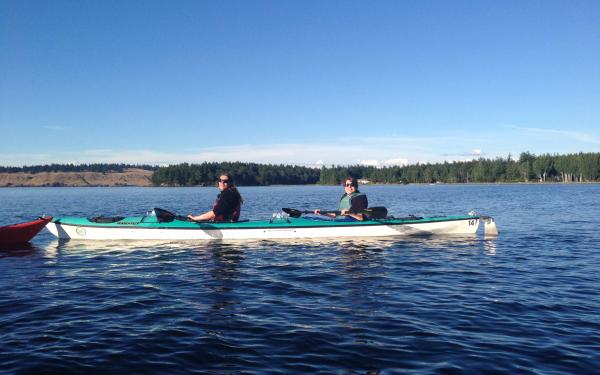 Text Editor
We crossed Roche Harbor's busy bay as a tight group. A passing motorboat generated a wake, which we took head on and I heard myself giggle like a child, wanting to do it again and again. We rounded Pearl Island and found ourselves in a magical kelp garden. Tim explained the ecological importance of kelp gardens as a hiding spot from predators and how fast kelp grows (a foot a day). We tried some. It tasted like the ocean.
We made our way to the shores of Pearl Island, where Brian handed us a starfish. Those guys can live up to 35 years.
Image
Image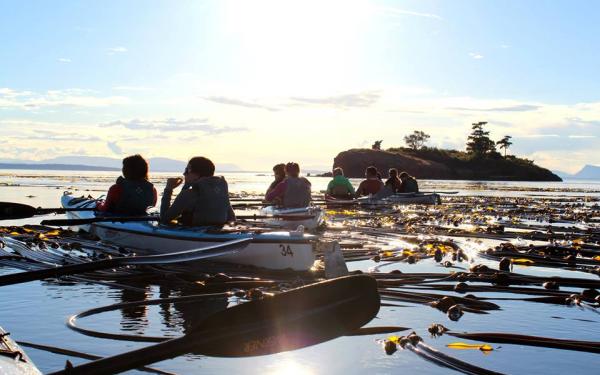 Text Editor
We learned about the fragile ecosystem of the San Juan Islands, tasted eelgrass, and paddled around Washington State's smallest marine park, Posey Island, which you can reserve overnight (bucket list item!).
We watched seals sunning on rocks and a bald eagle couple fishing for their babes, peaking out of a nest high up in a Douglas Fir.
We bobbed on the water, sunning and snacking, before it was time to return. My body felt marvelous. I certainly noticed that I usually don't use my arms much. My somewhat clumsy paddling left my side of the boat delightfully wet. I was proud of the small blister on the inside of my right thumb. Our group raced back to the docks. We came in second.
Image
Image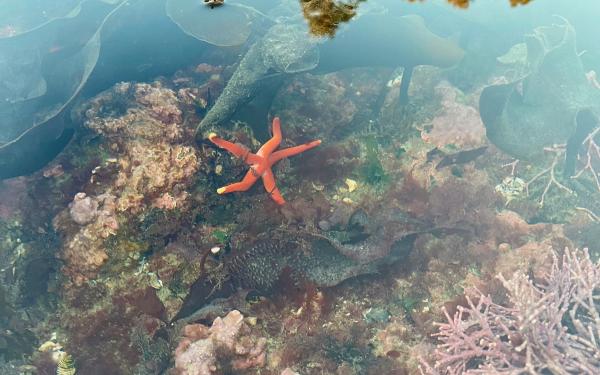 Text Editor
I had seen so many lovely critters & things, overcame my fear of sea kayaking, and had a tan, a blister and some lovely photos to show for it. After climbing out of our kayak (not my most graceful moment), I vowed right there and then, wet bottom and all, that I would do the 5 hour Orca Search next time.
Image
Image