Are you looking for a cozy little restaurant that harkens back to your favorite aunt's kitchen? Look no further. On the same block as the Farmer's Market, the COHO Restaurant, Café Demeter and San Juan Bistro is Cynthia's Bistro. Cynthia's is a well-known name in town. She has delighted with her sweet and savory pastries at her Farmer's Market stand for years and is one of the island's top caterers. Now she has a brick and mortar place, an adorable former house and serves breakfast, lunch and dinner.
But not just any old breakfast, lunch and dinner. Cynthia's cooking is French and German inspired and deeply rooted in her own family's tradition. Everything is home-made. Add to that fresh local and seasonal ingredients, many of them Cynthia grow herself, and the treasures the Pacific Northwest offers, and you have a truly unique menu.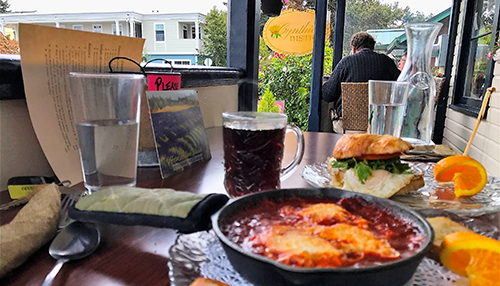 This cozy and bustling little place has a sunny back patio and front porch seating and smells yummy from the moment you walk in. Many signature breakfast dishes, as well as sweets, carry Cynthia's daughters' names, like Claire's French Toast or Hannah's Tofu Scramble. An absolute must-try is the Avocado Breakfast Bar: poached eggs resting on baked avocado, topped with smoked salmon or bacon, served with a side of your choice. For a quick snack on the go, consider a picnic to-go or a freshly baked pastry and espresso drink from the baked-goods counter. Cynthia caters, literally and figuratively, to gluten free, vegetarian and omnivore eaters alike.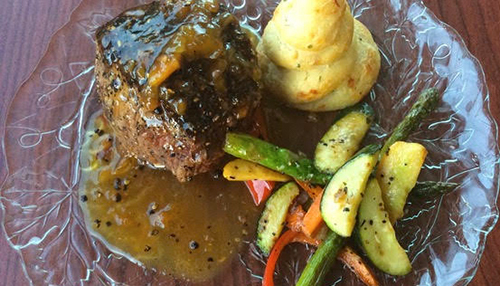 The Bistro recently added a small, delightful selection of local, seasonal dinners to its impressive resume, where Cynthia's French Cuisine schooling really gets to shine. She continues to offer catering services, ranging from full-fledged wedding menus to appetizer-only and picnic fare.
Cynthia's Bistro is open year-round Thursday through Monday for breakfast and lunch, Friday through Monday for dinner.