A mile southwest of Roche Harbor, on the shores of beautiful Westcott Bay, you'll find apple orchards dating back to 1870, from a time when San Juan Island was the proverbial fruit basket of Puget Sound. Tucked in this nook is a lovely little gem: Westcott Bay Cider replanted in 1990, growing vintage apples with lovely names like Kingston Black, Yarlington Mill and Sweet Coppin. Those are not apples for eating, those are strictly for drinking!
Text Editor
Cider making is the art of blending apples with different astringency & spiciness. Westcott Bay Cider has very successfully done just that and delighted the world with their award-winning Traditional Very Dry, Traditional Dry & Traditional Medium Sweet Cider since 1999.
In 2010 they added a few partners, got a new license and a very shiny copper Adolf Adrian pot still, hand-hammered in Germany. Just seeing the still warrants a trip to San Juan Distillery, which is open for tastings (the other great reason to visit) every Saturday, 1-4, between Memorial Day & Labor Day. 
Image
Image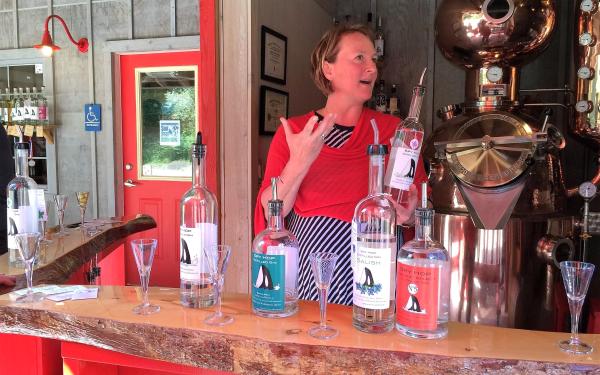 Text Editor
The very first release of the distillery's Apple Brandy in 2014 won Gold and Best in Class at the American Craft Spirit Association, making it the best rated Apple Brandy in the nation.
They have since added Gin, Vodka, Pommeau, Eau de Vie & Liqueur to their astounding resume, with an emphasis on blending unique, seasonal, local flavors and their apple based spirits. Micro-batch, limited quantity spirits make it possible to experiment, play with and refine flavors.
Among the seasonals available now are Salal, Salish Juniper, Elderberry or Nettle Spy Hop Gin, Blackberry or Madrone flavored Brandy and Lavender & Wild Rose Liqueur.
Image
Image
Text Editor
San Juan Distillery's spirits are rarely distributed outside of San Juan and are absolutely worth the trip to the island.
Image
Image