Laura and Gary were the real thing, right from the start. I could tell by the little smile playing around Laura's mouth at the mere mention of his name, by how Gary's eyes lit up, his body softening when his Laura was near. I was over the moon when they announced their wedding and totally excited that they choose the Pelindaba Lavender Farm on San Juan Island as their venue.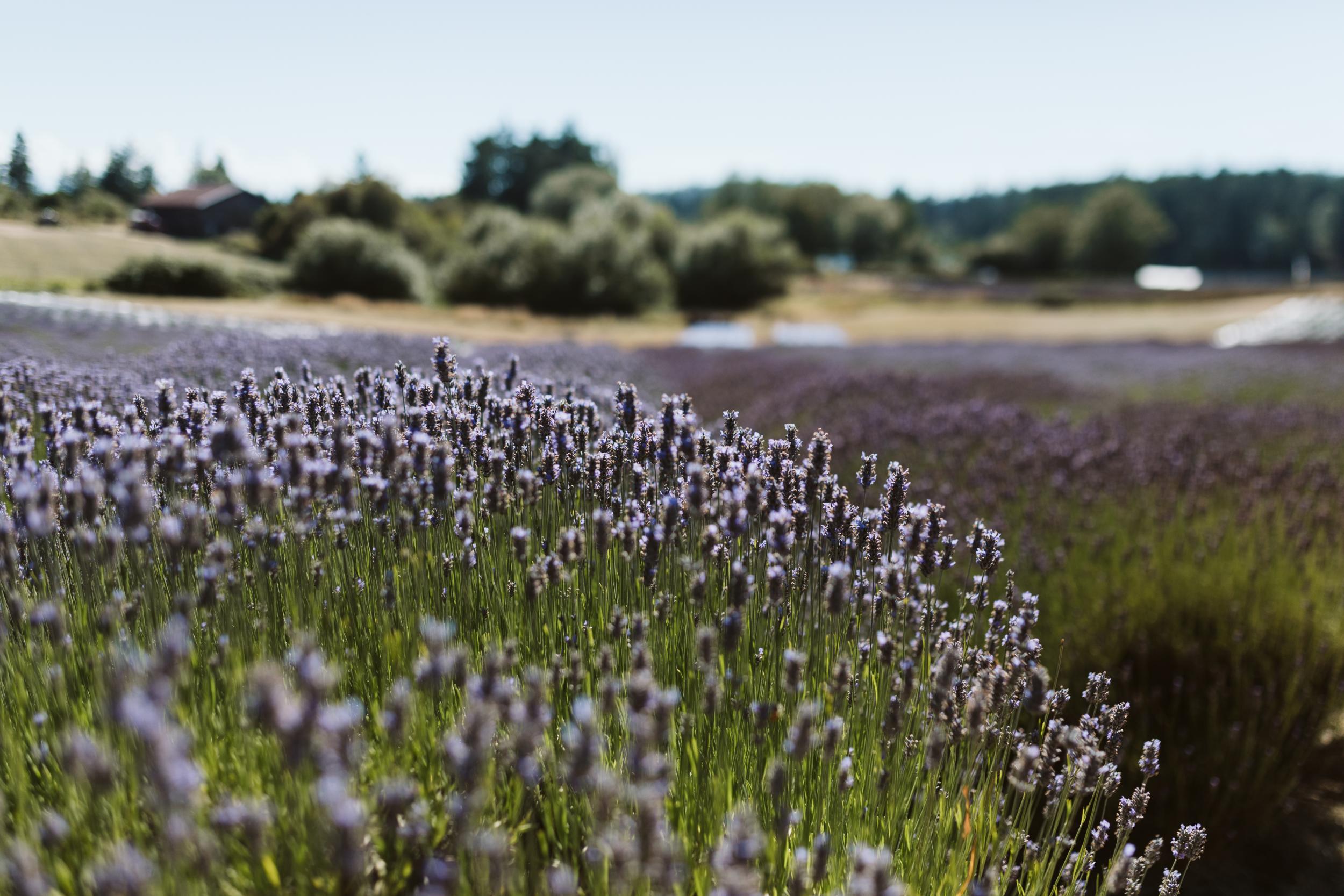 Laura is the owner of the Earthbox Inn & Spa and the Bird Rock Hotel on San Juan Island. I have worked for her and have cherished our friendship for well over a decade. When love coaxed me away from the isle, Laura created a telecommuting position for me. Getting a chance to revisit the island in August for her wedding was such a treat.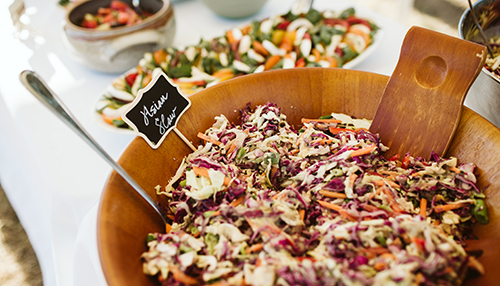 Laura and Gary registered with Sokind Registry, a service encouraging homemade gifts and donations. Instead of presents, the lovebirds asked for homemade food items for their potluck reception. I'm into cooking from scratch and eating local and seasonal food, which is so easy on San Juan Island, with its bountiful farms and fresh seafood. I signed us up for an herbed tomato and cucumber salad, something uncomplicated, since we were traveling and staying at the Earthbox.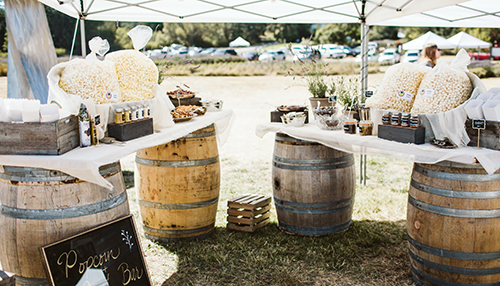 The weather was glorious on the big day. I had never been to the Pelindaba Lavender Farm in August - one of the side effects of working the seasonal life of the lodging industry. The colors and the smell were awe-inspiring. The farm is so large, that even a 250-person wedding doesn't interfere in the slightest with other tourist activities on the farm. Katie and Michelle with San Juan Shindigs had done a fabulous job setting the stage. There was literally a stage and a bar built from old wine barrels and wooden boxes, offering boozy and non-boozy lavender lemonade. Little lights and lanterns everywhere, to sparkle with the stars. Next to the popcorn, nut and chocolate station one could exchange high heels for flip flops, don funny sunglasses and keep cool with wooden fans. A big, white, airy wedding tent shielded us against sun and wind. The lavender fields around us were dotted with comfy couches and coffee tables.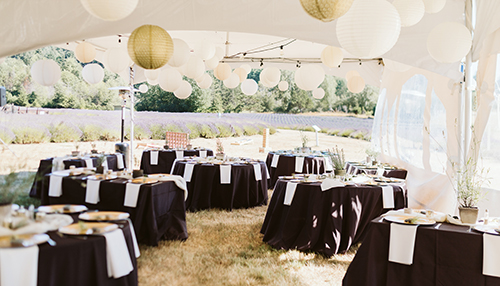 The real beauty though was in the details. I saw Laura's exceptional taste and loving hands all over them. The microbrews, sweating in an ice bucket, were labeled with a picture of Laura and Gary kissing. Air plants and beach stones, hand-painted by Laura with hearts and the word "love", decorated every plate. All signs were handwritten. She grew the lavender plants in pots, decorating the tables, herself over the spring.
Meanwhile local photographer Sara Parson, with her unique eye for island beauty and tender moments, elegantly weaved through the crowds and unobtrusively captured the essence of this exquisite gathering.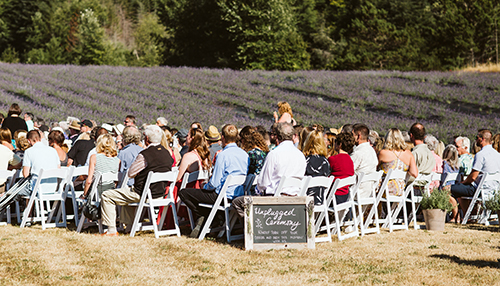 After saying "Hi" to friends and coworkers, catching up on new babies, finding out who got engaged and meeting the other side of the family (Gary's Mom is German like me), Gary ushered us to the lower lavender field where white chairs where facing a beautifully decorated wedding arch. I love that moment before the bride appears. The expectant chatter, the sweet vulnerability of the groom. Then Laura and her lovely Mom, Jan, made their dramatic entrance. Laura stood on the back of a golf cart coming down like Valkyrie from the upper field, with her dress trailing behind like a puffy cloud. Beautiful.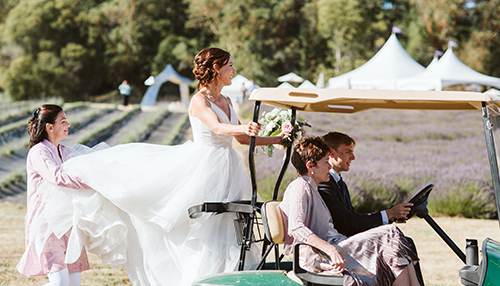 After a very funny and touching ceremony, officiated by Laura's brother in law, our favorite lovers meandered through the breathtaking scenery for a moment alone, while the rest of us grabbed our chairs and headed back to the festive tent to feast. And what a feast it was. There was wild salmon, a whole pig roasted on the spit and the fantastic sides we all had brought. We sumptuously dined on the abundant summer island fare until it was time for speeches.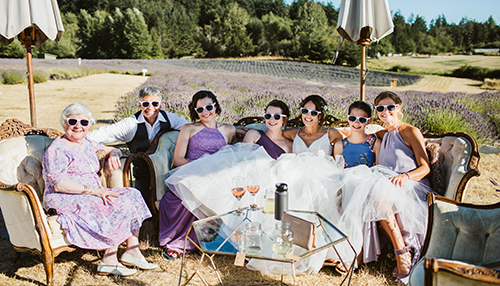 While alternately holding my belly laughing and uncontrollably sobbing, I listened and reminisced how much Laura means to me, how under her gentle tutelage I became the person I am today, how much we have been through together over the years, how much sorrow and beauty we share. Then Laura's and Gary's gorgeous, smart daughters took the stage to give a speech together. There was so much love, self-awareness, joy for and gentleness towards their parents, it floored me. I felt like that aunt, who keeps saying how tall everybody got. I saw those sweet munchkins grow up and here they were, adults, giving back the unconditional love and light they had received. Oh, laughing and crying at the same time is my favorite feeling.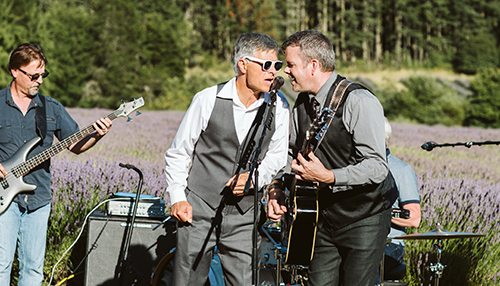 Then the dessert bar opened, Daniel and his band Desolation Sound began playing and we were treated to Gary serenading his new bride and showing off his dance moves. Oh baby, what a keeper!
Filled with love and peace and delicious homemade pies, we all took to the dance floor and danced into the night...