San Juan Island offers not only astonishing beauty and wildlife, world-class whale watching, rich history, amazing art, and really good food, it also has spectacularly beautiful beaches. Whether you are a beachcomber or birder, want to go for a refreshing dip or are looking for tide pools filled with bright sea stars and anemones, our island has the perfect beach for that.
Text Editor
Granny's Cove
Located in American Camp, Granny's Cove is one of the few sandy beaches on San Juan Island. The water is shallow and warms up enough in the summer to go splashing. This beach is perfect for little kids, sand castle builders and bird lovers. Park at American Camp Interpretive Center and follow the signs. The beach is a half a mile walk through prairie grass, along cliffs.
Image
Image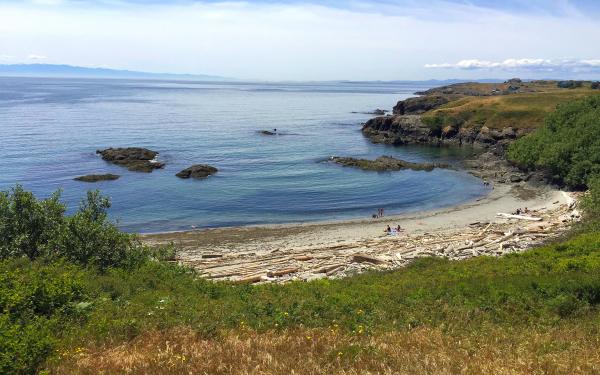 Text Editor
South Beach
South Beach is San Juan Island's longest and wildest beach. Near the parking area you'll find fire pits, barbecues and picnic tables. Kids of all ages build impressive driftwood castles, which make for lovely shelters against the sun and wind or to have a picnic in. Look for ancient Native American arrowheads, foxes and bunnies in the dunes above the beach. Even on the busiest days when you walk for a couple of minutes in any direction you will find yourself alone. Watch for Orcas, Bald Eagles, otters and seals. Please know that seal babies you might find on the beach are not abandoned. Their mom is just getting something to eat. Don't touch or move them, please. South Beach is located a mile south of the American Camp Interpretive Center on your right.
Image
Image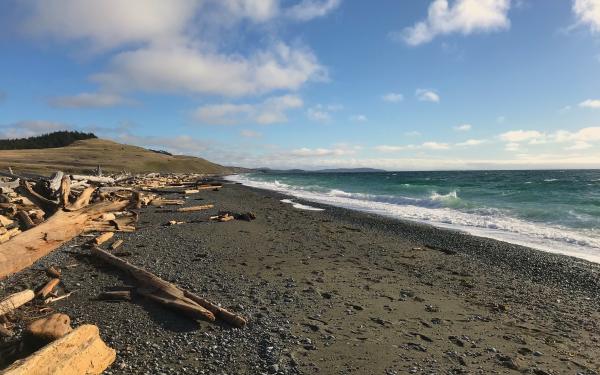 Text Editor
4th of July Beach
Also at the south end of the island, you'll find our island's patriotic tribute beach.  Really, it's a great place to watch the fireworks from both Friday Harbor and the neighboring Lopez Island, if you happen to be here for Independence Day.  To get here, just go past the American Camp Interpretive Center, off of Cattle Point road, for one mile and look for the signs on your left. This calm, partly sandy beach opposite South Beach is ideal when the winds are howling on the other side. Water and air are protected by Mt Finlayson. Dense Douglas Firs grow right up to the beach. A lovely place for little kids to play safely and to read a good book.
Image
Image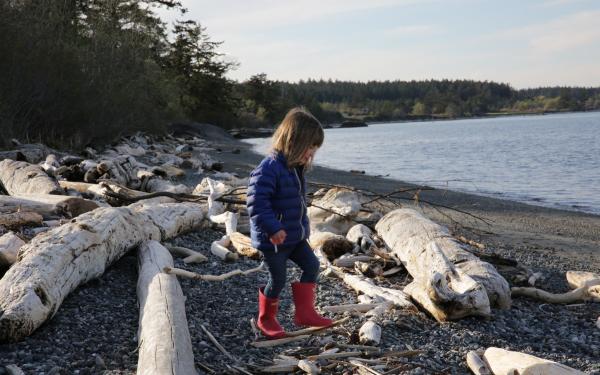 Text Editor
Jackles Lagoon
An easily walkable one mile south from 4th of July Beach, Jackles Lagoon is an amazing place for a hike and a picnic. The serene lagoon provides a haven for nesting sea birds. Please don't disturb. Impressive sea lions sunbathe on rocks just off the beach.
Image
Image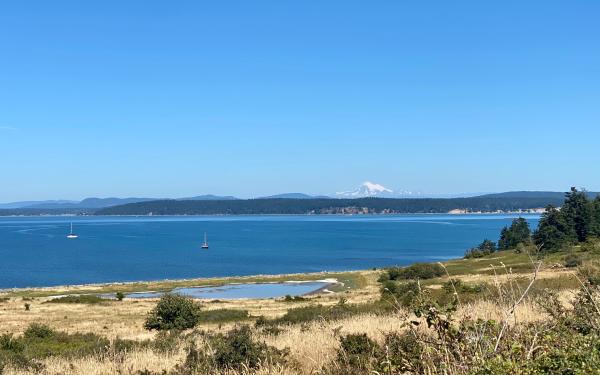 Text Editor
Deadman Bay
Don't let the name scare you away from this hidden treasure. Located a mile before Lime Kiln State Park, you may either park right above the beach on an unmarked pull out or, if you miss it, park at Lime Kiln and hike the half a mile back along steep cliffs high above the sea. Deadman's crystal clear water and perfectly semi-circular shape make you feel like you are in the Caribbean with the wrong trees. Practice your stone-skipping skills, watch for whales, let the puppy swim and explore the tide pools.
Image
Image