My husband and I went to gorgeous San Juan Island for a friend's wedding. On our last day we meandered through the beautiful historic resort of Roche Harbor, explored the cute street vendors and walked along the waterfront, when we stumbled upon a dock overflowing with colorful stacked kayaks and paddle boards, the outdoor office of San Juan Outfitters. My husband exclaimed: "Let's go kayaking!" He is the spontaneous type. And I, being his wife, said yes.
Text Editor
San Juan Outfitters offer three and five hour guided kayaking tours, as well as sunset, bioluminescent, Orca search and family tours. Given our timeline and level of experience (none), we opted for the three hour tour, which was about to depart.
Image
Image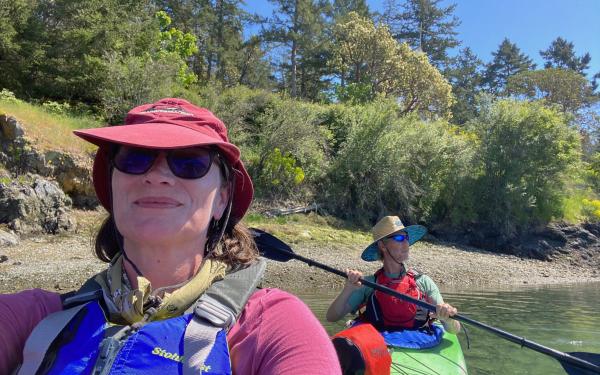 Text Editor
Kato, our fun guide and naturalist, got us all suited up in life vests and kayaking skirts, made sure we had water, a hat, sunglasses and sunscreen – even on cloudy days the sunlight on the water is intense and demands respect – and gave us his spiel about safety and what to expect. Then we got into our double kayak, which Kato lovingly called "the divorce maker", from the easy slip docks and paddled away.
Image
Image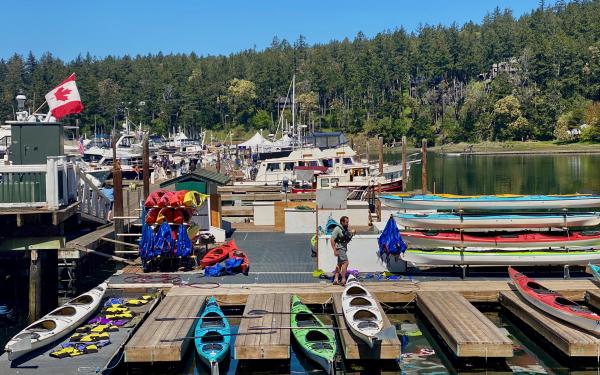 Text Editor
We stayed in a tight group crossing the channel leading into the harbor. The water was like a mirror and crystal clear. Kato pointed out tiny Posey Island, the smallest of all Washington State parks, which features two reservable camping spots and that's about it. Bucket list!
Image
Image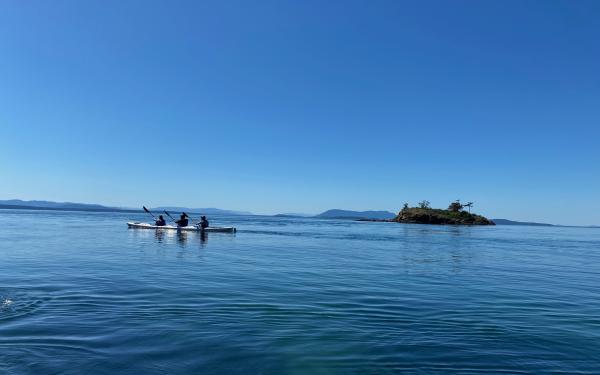 Text Editor
Hugging the coast we came across a giant bald eagle nest, saw so many eagles and were lovingly observed by oh-so-cute seals from a distance. Every once in a while a motor boat would pass us, resulting in giggles and hollers as we maneuvered their wakes.
Image
Image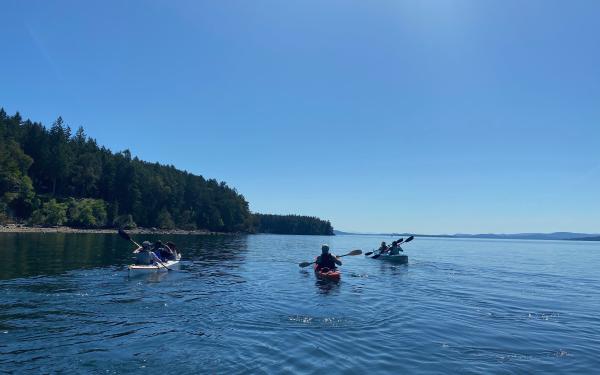 Text Editor
As we glided along, Kato shared fascinating stories, like the one where transient killer whales, the Orca who eat mammals like seals, were seen hunting a swimming deer or how the barren Spieden Island in our view once was stocked with exotic game for hunting and some are still there.
Image
Image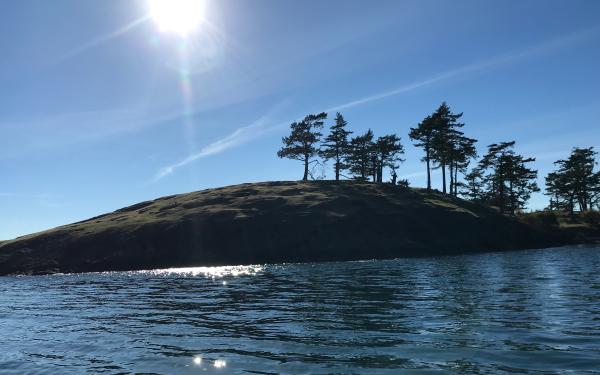 Text Editor
As the tide came in we huddled in the shade close to shore, had snacks and water and inspected the cool creatures, kelp and eelgrass exposed by the tide. The leisurely paddle back in the glorious sunshine was absolutely fabulous.
Image
Image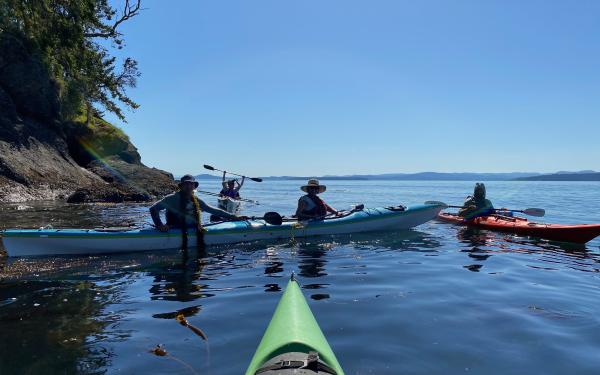 Text Editor
Three hours was perfect, not too long, not too short. Back in Roche Harbor we treated ourselves to an early dinner on the sunny patio of the Madrone Grill before heading back to Friday Harbor to catch the ferry home.  
Image
Image