San Juan Island, with its clean air, awe-inspiring wildlife and breathtaking beauty, truly is a slice of paradise. It's fragile too. On an island, environmental issues are less removed and more immediate. We here on San Juan Island remember the day unmitigated laundry detergent accidentally streamed into the harbor of our little town and all the fish went belly up. We remember when our transfer station stopped recycling and increased the price of garbage because there weren't any off-island buyers for it (we since have recycling back, yeah!). We remember when Tahlequa, J35, of our Resident Orcas, carried her daughter, who had died 30 minutes after birth, for 17 days in a Tour of Grief and forced the world to think about toxins in the water and diminishing salmon runs.
Like every business striving to be green, we here at the Earthbox are aware of walking a fine line between solid environmental practices, guest expectations and financial feasibility. Here are 25 eco-friendly things we have implemented - from buying as many local products as possible, minimizing waste to using environmentally-responsible products.  We strive to keep our footprint small to ensure this precious island, the seas surrounding it and our hotel will be worth visiting for all of us--for you, for our children, for our grandchildren.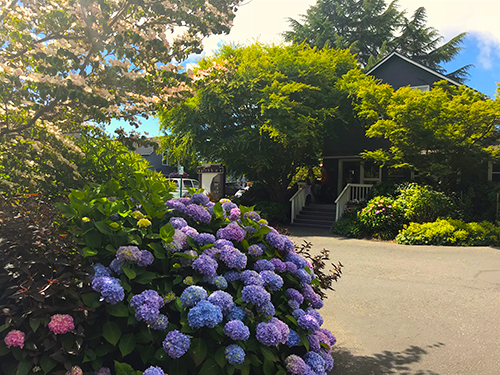 Instead of tearing down a defunct 60's motor inn and putting up a cookie cutter place with all new materials, we rebuilt it. Our Earthbox is a work in progress. A labor of love. Every Winter we set aside some time and money to repair, refurnish and update buildings and- where possible - to add more gardens.
All of our single use "silverware" is made from compostable cornstarch. 
We have switched to energy saving LED light bulbs throughout the property. 
Our laundry detergent is biodegradable.
We use e-cloths for all of our cleaning, no chemicals, just water and the bacteria killing cloths. We admit, we do resort to bleach to do heavy sanitation when necessary.
When a toilet needs replacing, we replace them with (rather expensive) low-flowing toilets, which only use 1 gallon of water per flush.

You'll find this note on your bed upon check-in (apple not included)

 

The impact of hotel laundry on the environment is not lost on us. We place little cards in our guest rooms, asking guests to conserve water and suggesting guests re-use towels, instead of replacing them and the sheets every day.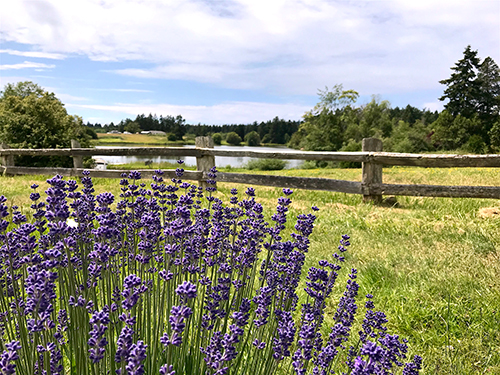 All of the body care products in our guest rooms come from the local Pelindaba Lavender Farm and are certified organic. Using bulk containers to dispense them, rather than all of those tiny plastic bottles cuts down on a lot of waste. If a guest requests non-lavender products, we do have other products available, which do come from off-island.
We offer filtered water in our lobby for guests to fill their water bottles rather than buying single-use plastic bottles.
The complimentary coffee we serve in our lobby is from the local San Juan Coffee Roasting Company, which only buys from small family farms growing shade-grown coffee without the use of harmful pesticides.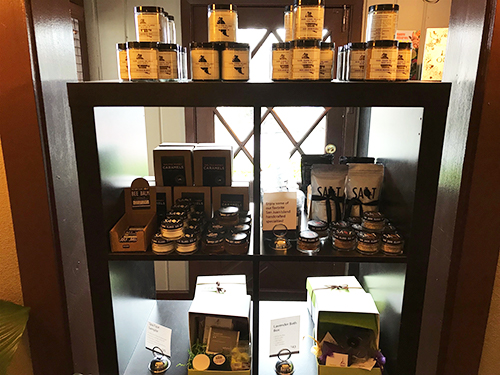 We offer local souvenirs and goodies in our gift shop, cutting down on our carbon footprint to deliver goods from off-island.
We have placed mugs and glasses in our guest rooms as opposed to Styrofoam or plastic cups.
We recycle.
Our printer paper is Sustainable Forest Initiative certified.
Our Spa offers an organic product line as well as a non-toxic nail care line.
We have installed two electric car charging stations on our property.
We use battery-operated lawn and garden tools instead of gasoline ones wherever possible.
We have a well on the property, which we use to irrigate and fill our pool, cutting down on using expensive, treated water from our very fragile watershed.
We moved to a paperless check-in and check-out process.
We use wooden stir sticks instead of plastic straws.
We use fake wasp nests instead of pesticides to deter wasps. Wasps are territorial and don't set up camp when another nest is already in the area. Works amazingly well.
We use vinegar, salt and soap instead of Roundup to control weeds and moss on our property.
Every Earth Day we participate in the "Litter Free by the Sea" island-wide beach clean-up.
We sponsor, promote and donate to environmental and social causes every month.
We run blogs on three websites, emphasizing not only the fun stuff to do on the island, but also the fragility of our little paradise, the need for stewardship and what guests and visitors can do to help. You are reading one right now, thank you!