Fall is my favorite season on San Juan Island. The warm days and crisp nights, the colors of the leaves turning, whale watching with San Juan Safaris and all the activities surrounding food, Fall and art the isle has to offer. Having German heritage, I'm also an Oktoberfest connoisseur and let me tell you, San Juan Island Brewing's Oktoberfest is an affair not to be missed. So come on up for an unforgettable Fall weekend getaway. Here is your itinerary:
Text Editor
Before you go:
The Earthbox Inn & Spa, the only hotel on San Juan Island with an indoor heated pool and a full service, on-site spa, offers amazing lodging specials in the Fall. Besides relaxing massages, they can also set up whale watching tours for you right when you make your room reservation.
Friday:
Your vacation starts at the Anacortes ferry dock. Ferry reservations are recommended, even though they are not absolutely necessary like they are during the Summer months. While waiting for the ferry, stroll down to the adjacent beach for a nice nature walk, check out the gift shop and the Provisions Café in the ferry terminal and get on island time. If you are coming up after work, there is a very good chance you'll get treated to a breathtaking sunset on your ride. Have your camera ready! Once you land in Friday Harbor and have checked into your room, have a local lamb burger or steamed mussels at the Cask & Schooner Public House. Afterwards go for a swim and a sauna at the Earthbox's pool house or see the late show at the historic Palace Movie Theater.
Image
Image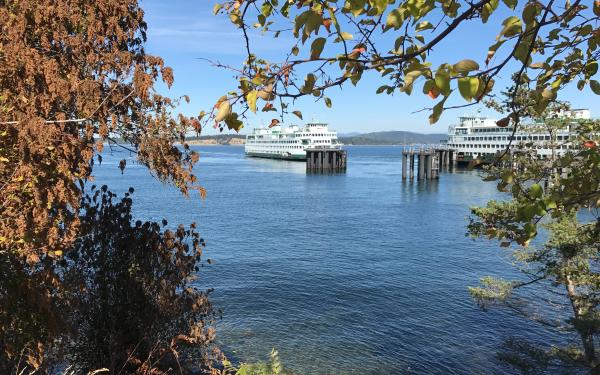 Text Editor
Saturday:
Don your Lederhosen or Dirndl: it's Oktoberfest Day! Walk through town and get coffee, then do the Farmer's Market, a total treat during Fall. In addition to luscious island-grown food and flowers, you will find locally made arts and crafts, live music and delicious ready-to-eat food like paella, crepes, falafel and pizza. Grab something for lunch as well, and head to Lime Kiln Sate Park, just eight miles out of town and one of the best places in the entire world to see whales from land. Sit on the cliffs – the water here is exceptionally deep, so wildlife feeds very close to shore – listen to Bald Eagles and the waves. Learn about our Resident orcas from the interpretive signs at the whale watching platform and check out the 100-year old lighthouse. 
Back in Friday Harbor consider walking to the Brewery (it's just a few blocks from the Earthbox Inn & Spa). Oktoberest festivities start at 11:00am. San Juan Brewing's beautiful open architecture lends itself perfectly to recreate the beer hall atmosphere of a Munich beer tent. All of their beers are fantastic. The seasonal Festbier though is amazing, smooth and refreshing, with just a hint of sweet barley. So is the authentic German food, like Wiener Schnitzel, soft baked pretzels and halbes Haenchen. Then it's time to party. Dance to live music, enter the costume or the liter holding contest (you'll see) and partake in all the other fun games & activities for all ages. Good times.
Image
Image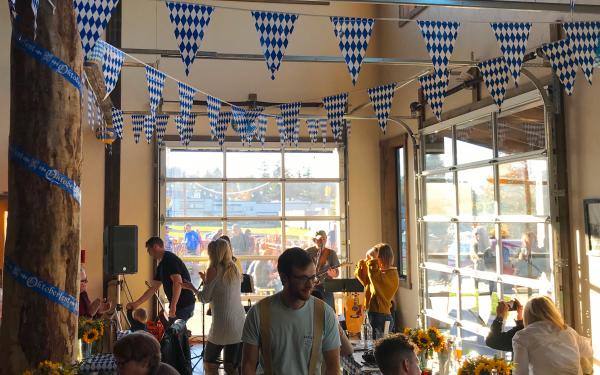 Text Editor
Sunday:
Have a sumptuous breakfast at the Rocky Bay Café a block from the Earthbox. Eggs Benedict or Biscuits & Gravy, because it's Whale Watching day and you'll need your strength. Wear warm clothing and layers, it gets cold out on the water. Bring sunglasses & sunscreen (yes, even in October), a hat, your camera, drinking water, a snack and meander down to San Juan Safari's office by the waterfront to check in.
San Juan Safaris have provided outstanding guided Whale Watching tours out of Friday Harbor for over 20 years. They always have at least one professional naturalist on board to answer questions and explain what you are observing. On board you will find free binoculars and blankets to check out, educational materials, a hydrophone for listening to wildlife under water and, yes, a bathroom.
In the Fall, just off San Juan Island, it is not uncommon to spot different families of Orca whales, porpoises, Stellar sea lions, Bald Eagles and other seabirds on guided whale watching tours. It is almost certain that you'll encounter the majestic Humpbacks.
Image
Image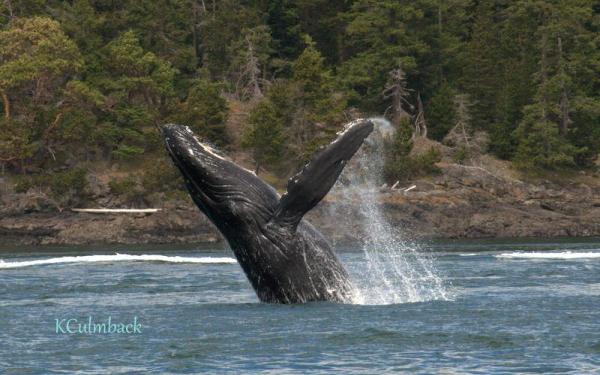 Text Editor
Humpbacks have made a remarkable comeback in the Salish Sea over the last 10 years, after they received endangered species status in 1970. They grow up to 50 feet long and have a life span of about 40 years. In Fall they prepare for their Winter migration to Mexico and Hawaii, where they mate and breed. Then they come back in Spring with their babies - a whopping 6,000-mile migration - during which they don't eat! When they do finally eat, they need 1½ tons of food per day.
After your guided whale watching tour, put your car in the ferry line for an early evening ferry, and meander through town for some last-minute souvenir shopping – don't miss the downtown Pelindaba Lavender store - or have a cocktail at Downriggers on the waterfront, where you'll be able to see your ferry pulling into the harbor.
Image
Image