It all started with a selfie, when I was searching for a title picture for my article How to Plan the Perfect Girlfriend Getaway to San Juan Island. After asking Sarah, Lynette and Jill if I could use our pic, I suddenly missed them like crazy and decided to heed my own advice and plan a girlfriend getaway to San Juan Island.
The four of us go back almost two decades. We are those kind of friends, where we start our conversations as if we just saw each other yesterday, even when it has been years. We are at ease and familial, drink out of the same glass and borrow each other's clothes, and now we were all in Sarah's car, headed to San Juan Island.
FRIDAY
The weather was nasty, typical "Sprinter" (Spring & Winter) in the Pacific Northwest, lashing rain and cold. I kept telling the girls that San Juan Island is in the Olympic Rain-shadow and that we will see sunsets. They just looked at me, eyebrows raised.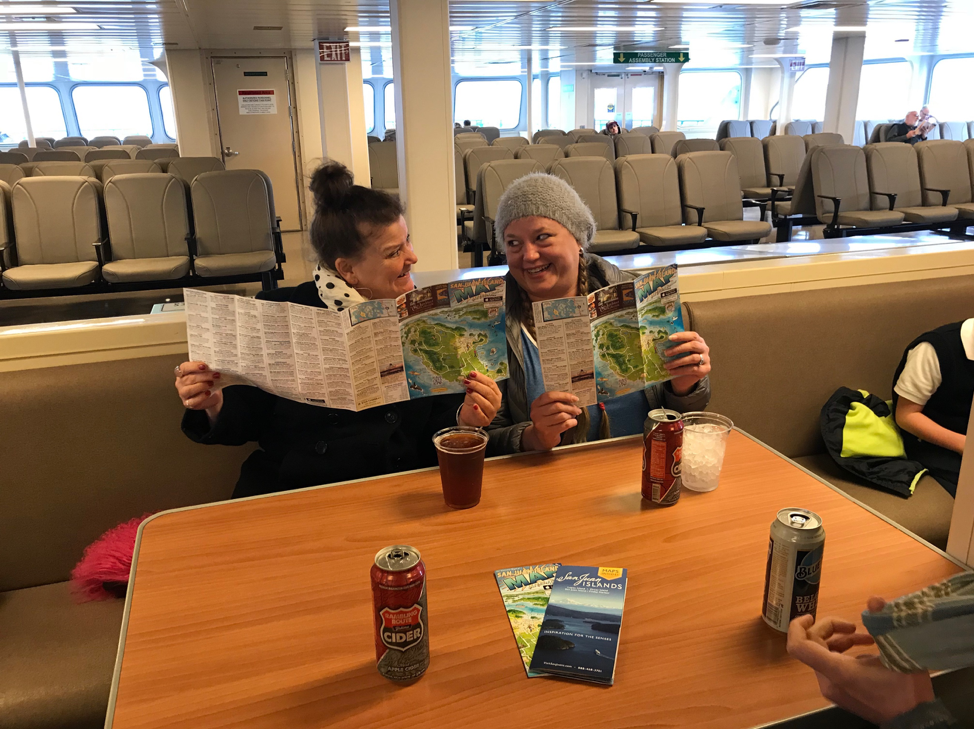 We treated ourselves to hard cider and beer on the ferry, looked at island maps and marveled about all the things we could do and see. I wanted to show them South Beach, where I got married, but other than that, none of us had an agenda, just relax, have fun, be present, go with the flow.
When the ferry docked, I felt the familiar feeling of calm washing over me. I was back on Island Time. I was home. The rain had stopped, when we checked into our rooms at the Earthbox Inn & Spa. We had reserved adjoining Earth Places with two queen beds each and were looking forward to enjoying the super comfy beds and lavender body care products from the local Pelindaba Lavender Farm.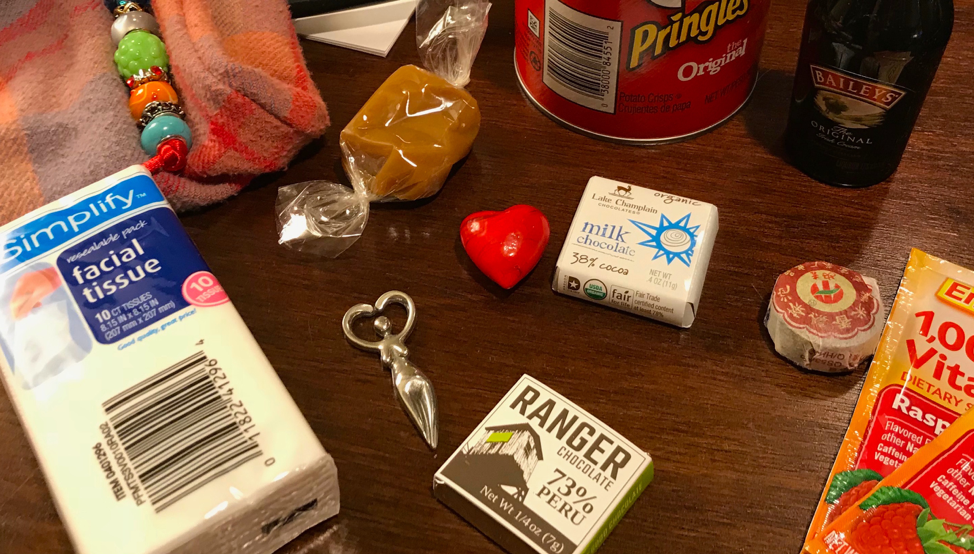 Sweet Jill presented each of us with Girlfriend Getaway gift bags, she had hand sown and decorated, filled with goodies like chocolate, caramels, Vitamin C, tissue and a tiny goddess. Each Goddess had an engraving on the back. Mine said: Friends are the family you choose. I almost cried.
After settling in we decided to hit town for a pub crawl (all of us either work or used to work for the Olympia Fish Brewing Co and are micro-brew connoisseurs). I love that everything is within walking distance in Friday Harbor. Not having to drive or parallel park alone makes me feel relaxed, free and safe.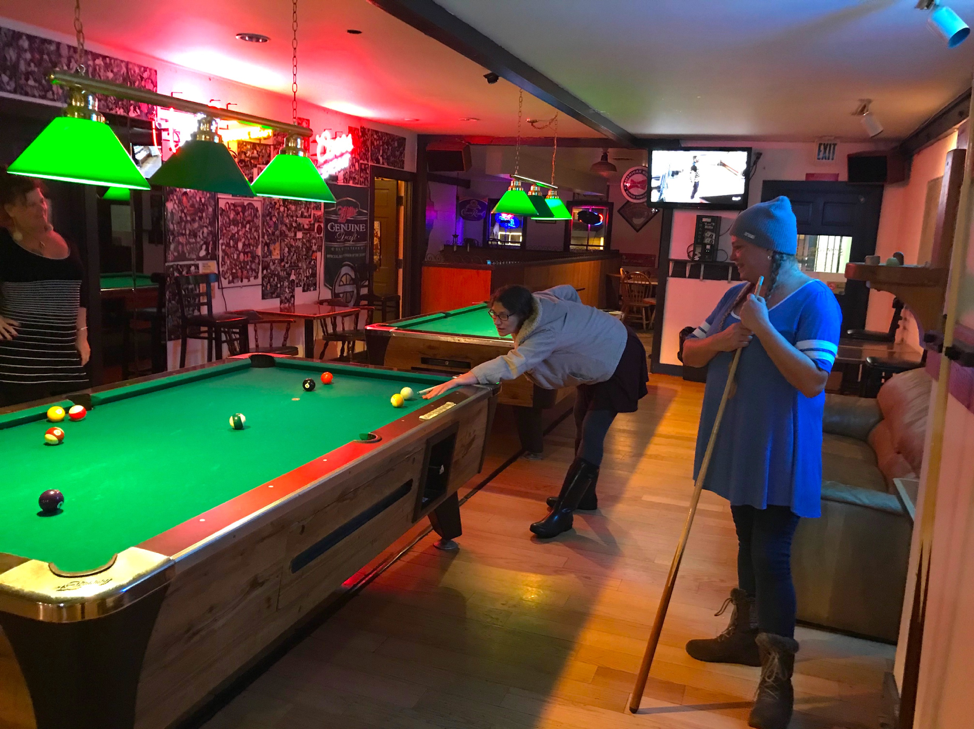 After checking out Herbs, Friday Harbor's oldest tavern, we had seafood dinner at the lovely Cask & Schooner, pondered how our husbands dealt with us being away, considered big life concepts like love and trust, and filled each other in on the good and bad life had thrown us, since we had last seen each other. We ended our night around 8:30pm with a game of pool at the completely deserted China Pearl and chuckled at the fact how lightweight we had become at our age.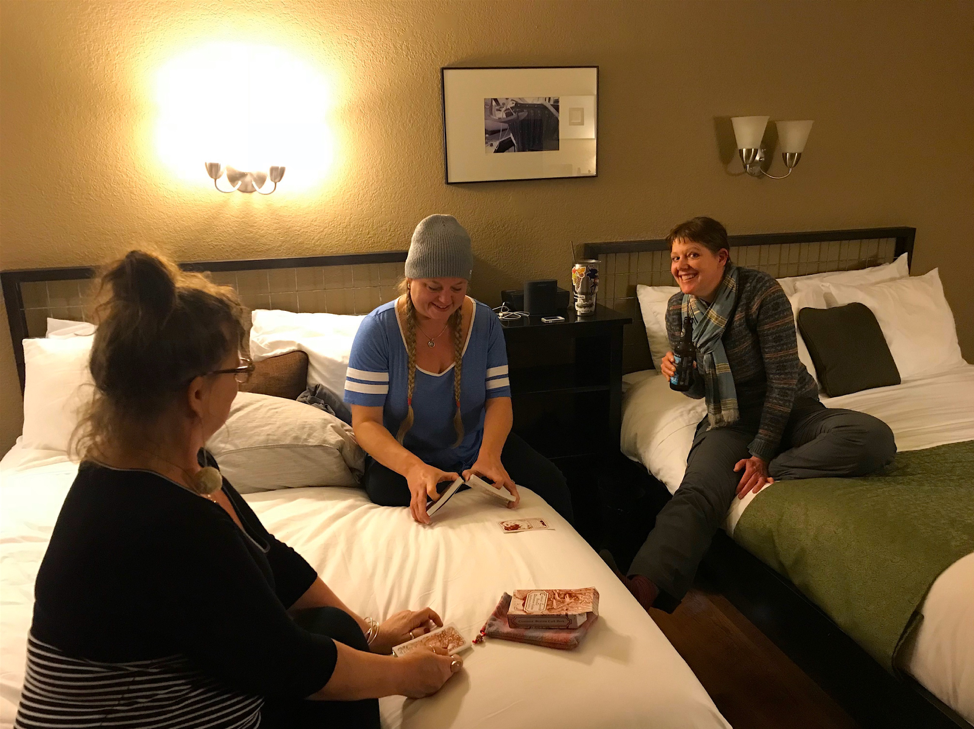 Back at our hotel Jill read us Goddess Tarot Cards and we went deep, really talked, wiped tears of joy and sorrow off our cheeks, felt whole and known and slept like babies in the incredibly comfortable beds.
SATURDAY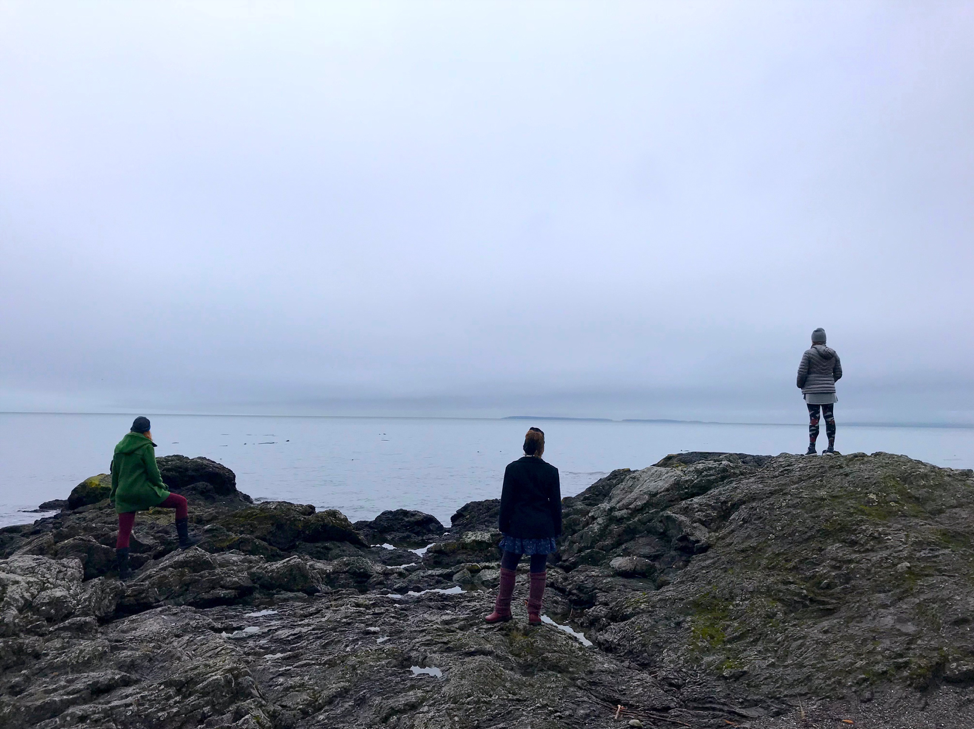 After a quick, uncomplicated breakfast at the Bean Café we headed to Lime Kiln State Park. We had forgotten our Discovery Pass that we needed to park there, so we parked at a pull out above Deadman Bay and beach-combed our way the half mile to the park. It wasn't raining, but it was a rather cloudy day and I endured numerous jokes about the Rain-shadow. At Lime Kiln State Park, the best place to watch Orcas from land on earth, we learned about the Resident Killer Whales, their habitat and challenges, listened to the underwater hydrophone by the Lighthouse and hugged the most magnificent Madrona trees.
Then we headed to the San Juan Islands Sculpture Park, a 20-acre park with over 150 sculptures, near Roche Harbor. We had a blast carving our names in the Friendship Totem, putting a wish in the Tibetan Wishing Urns, watching a Bald Eagle on its nest and posing with the statues.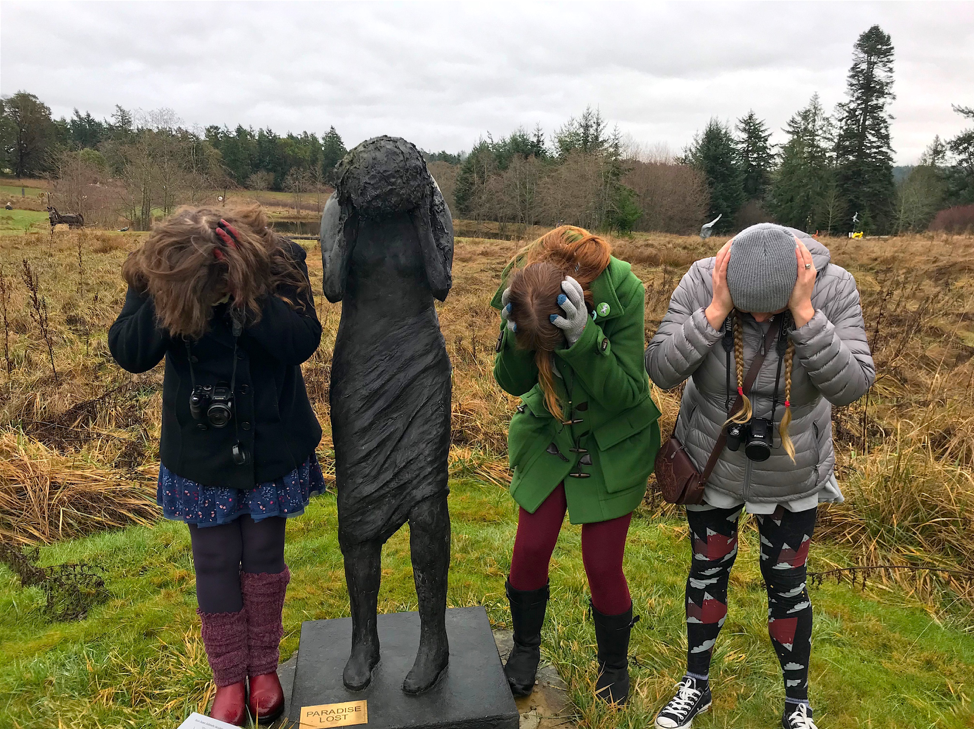 We lunched at the Lime Kiln Café in Roche Harbor, a historic resort on the north end of the island, petted other people's dogs and looked at yachts worth more than all our yearly household incomes combined.
Driving through beautiful farm land we proceeded to the San Juan Vineyards for a wine tasting and to say "hi" to Mona, the island camel living across the street. I had been to the Vineyards once before. The lady in the historic tasting room remembered my name, I couldn't believe it. She told us about the Harvest Festival on the first Saturday in October, when islanders and visitors harvest grapes side by side, have BBQ and taste the newest wines while listening to live music. We vowed to check that out.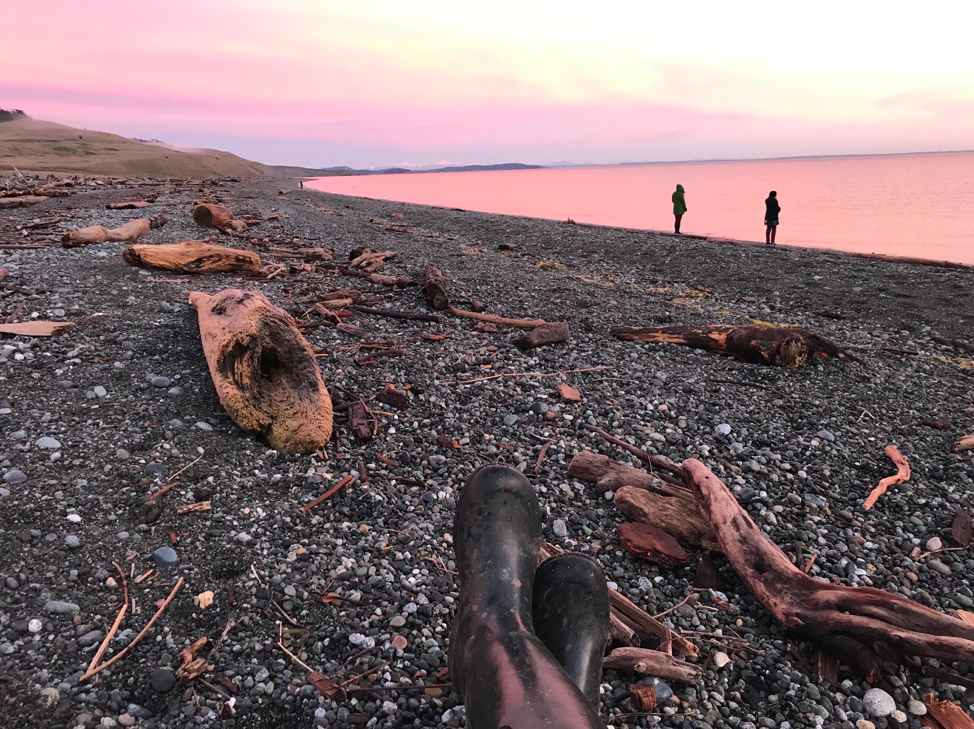 Then I brought my girls to South Beach in American Camp National Park on the south end of San Juan Island, to the spot where I married my Sweetheart, where the foxes and bunnies amazingly live side-by-side and during full moons, the moon rises in the east over Mt Baker while the sun sets in the west behind the snow-covered Olympic mountains. We got our sunset – the Rain-shadow is real! A sea lion swam by. A Red Fox hunted in the dunes. The world was glorious and still.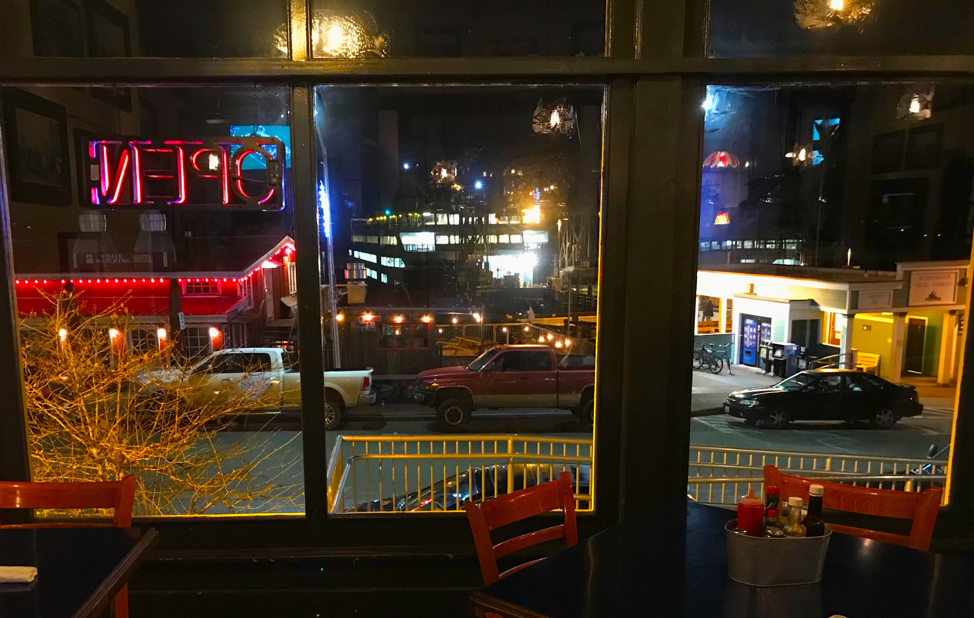 Back in Friday Harbor we made our way to the Blue Water Bar & Grill by the ferry landing and ordered their entire appetizer menu to share. It was fun and really good and not expensive. For a night cap, we headed to Haley's Baitshop, a sports bar with a gazillion old photos of fishermen and their catch on the walls, when we were bitten by the Pull Tabs bug.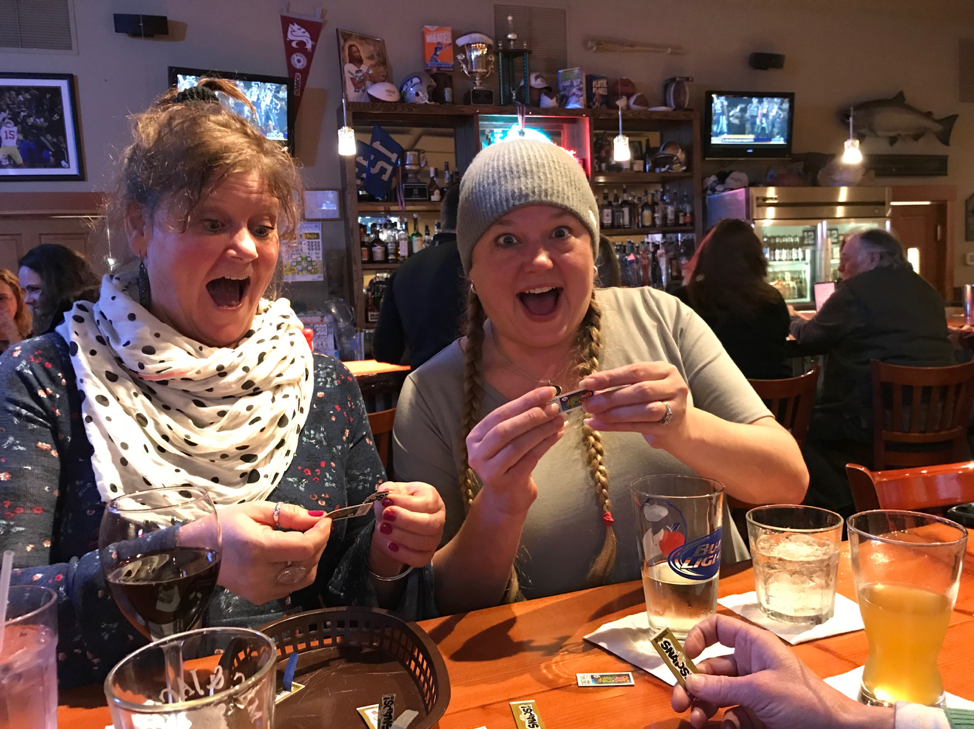 We won a wopping six dollars which we promptly invested in a bit more firewater, before retiring to our quiet hotel rooms for another night of heavenly sleep.
SUNDAY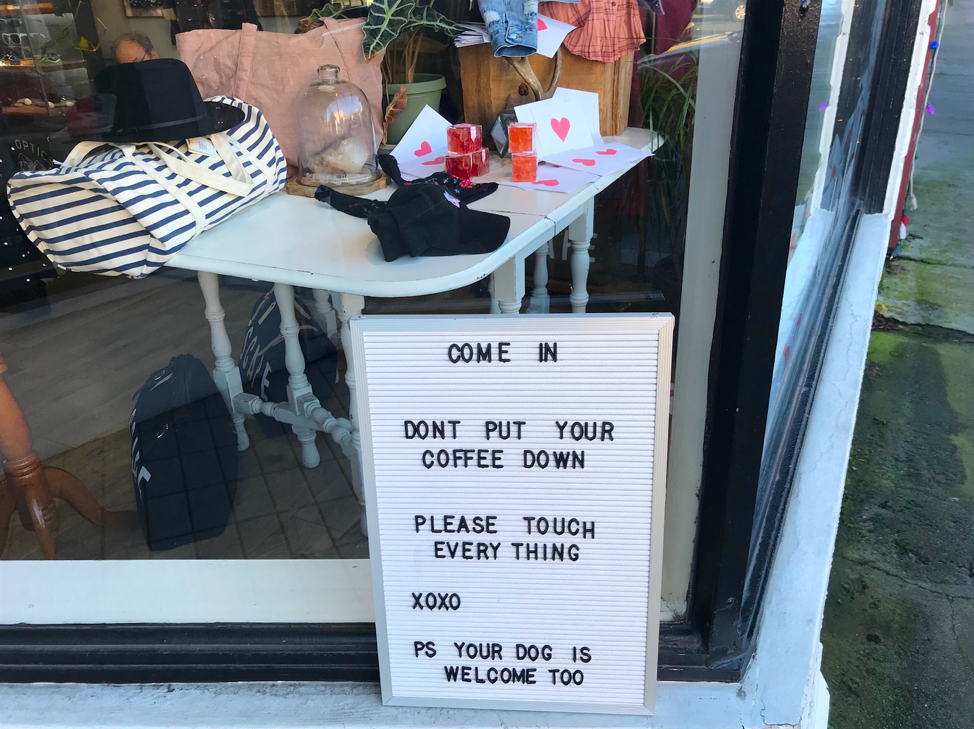 After putting our car in the ferry line, we had breakfast at the Hungry Clam, an incredibly cute 60's diner, right by the ferry landing. Strengthened by Eggs Benedict and Biscuits & Gravy, we strolled through Friday Harbor in search of treasures to bring back to the mainland.
We started with the Earthbox Gift Shop, which has a huge selection of island made gifts. I'm a foodie and stocked up on Madrona smoked San Juan Island Sea Salt. Our next stop was Girlfriends, a super cool Consignment Store, where we drooled over skirts and boots and Lynette found the perfect coat in her size, color and style. At the Deer Hazel Boutique, Jill treated herself to locally-made large crystal earrings, to go with her Goddess Tarot Cards. Sarah, hunting for a sticker for her car, found an amazing Native American decal depicting a whale at the Griffin Bookstore. Then we visited the Pelindaba Lavender Downtown Store and spent an undisclosed amount of money on very good smelling things.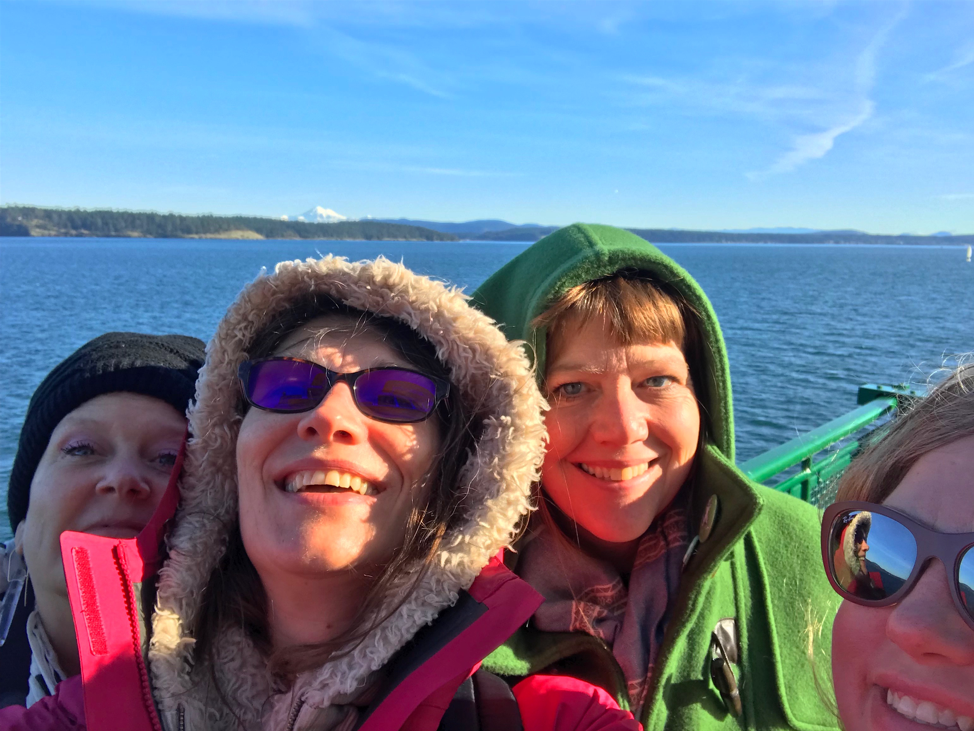 We had just enough time to stroll the docks and get a coffee at the Riptide Café before heading back to reality on a glorious ferry ride in the sunshine with Mt Baker in all its splendor.
Thank you, Earthbox Inn & Spa and San Juan Island. We had a blast. Our emotional coffers filled to the rim, we vowed to make Girlfriend Getaway a yearly tradition.