Spring hiking on San Juan Island is a real treat. The forest floors are carpeted with wildflowers, while the air is abuzz with the song of birds and tree frogs, ringing in the change of the season. On the prairie overlooking the serene Salish Sea, the fox pups and bunny kittens are competing over which is cuter, while the majestic Bald Eagles, who mate for life, teach their eaglets how to fly. Then there are the stunning vistas from the top of our mountains.
Here are our favorite hikes with giant views on San Juan Island. And please, remember to leave these precious areas just like you found them, packing out all of your trash, including food scraps.
Text Editor
Mount Young
This three mile roundtrip hike in English Camp National Historical Park winds by a small Royal Marine cemetery and through a stately stand of Garry Oaks, before becoming steep and thickly forested. Kind souls have hidden treats and painted stones in the hollows of madronas on the path for kids and kids at heart to take. So fun! Once you'll see the views from the lookout you'll think this can't get any better. Don't give up now. Make it all the way up to the summit.
Image
Image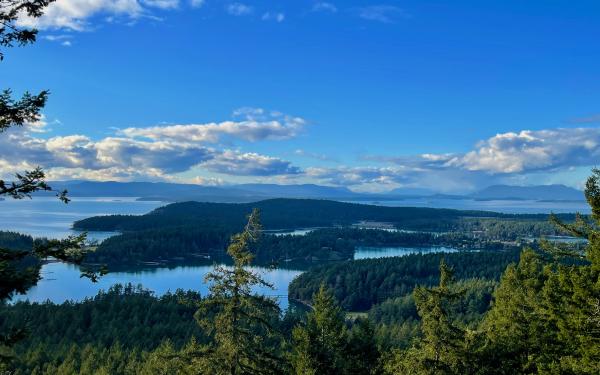 Text Editor
Mount Grant
Saved from development by the San Juan Landbank and the San Juan Preservation Trust, this gem off West Valley Road is San Juan Island's highest publicly accessible mountain. There are over 4.6 miles of trails to explore on 250 acres with sweeping views from the top. Have a picnic on one of the hand-carved benches or comfy picnic tables and be prepared to see various raptors riding the thermals.
Image
Image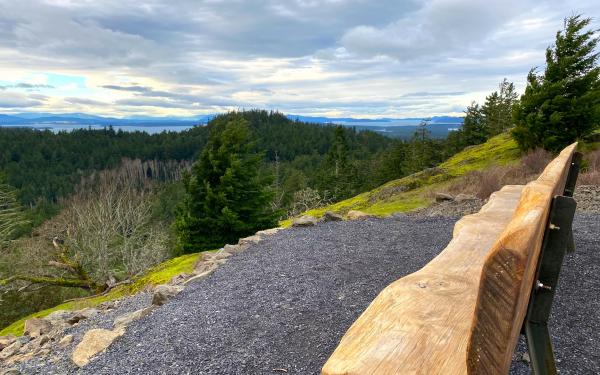 Text Editor
Mount Finlayson
Park at Jakles Lagoon in American Camp National Historical Park to explore the four mile Mount Finlayson loop featuring two lagoons, deep forest and prairie grassland overlooking South Beach, Cattle Point Lighthouse and the Salish Sea with the snow-covered Olympic Mountains in the background. This is an excellent place to see the sunset, go birding and watch for Orcas.
Image
Image