On the north end of San Juan Island, nestled around a lake, butting up against pristine Westcott Bay, is the 20 acres San Juan Islands Sculpture Park.
We visited on a sunny Fall day, hoping to stretch our legs for a couple of hours and see something inspiring, maybe even holding the attention of the kids for a moment. Boy, did we get rewarded.
Text Editor
The first of many pleasant surprises was that our chocolate lab Fritz was not only welcome, he was allowed off-leash if well behaved (he is!). It can be challenging to travel with a dog when it's getting warmer and he can't stay in the car for long. It's also hard to get him tired when he is only allowed on the leash, so this was heaven.
The second surprise was that kids are free and my hubby and I gave a mere $5 donation per person, to see more than 150 sculptures in this beautiful place.
Image
Image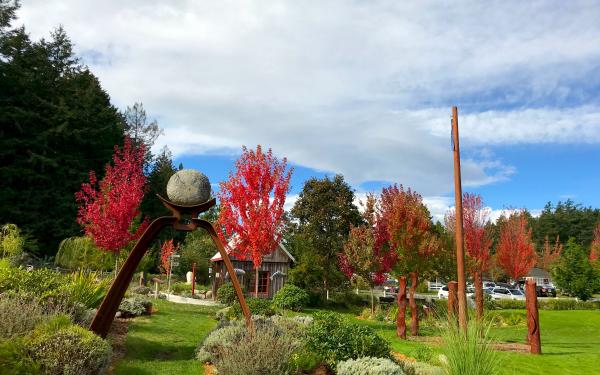 Text Editor
Our daughter made a b-line for the Star Fish Project, a vast sand box, stocked with seashells, stones, driftwood and other materials for kids to make their own art. Our son was last seen at the Friendship Totem, a 30 foot long pole full of signatures from people all over the world, where he eternalized himself with an electric engraver. The pole will be erected when full, symbolizing the connection of all people. My heart jumped for joy that both of our kids found art engaging, while Fritz and my hubby and I walked through a freestanding, cast iron door, hit a massive gong hanging off it's side and followed the path into the woods.
Image
Image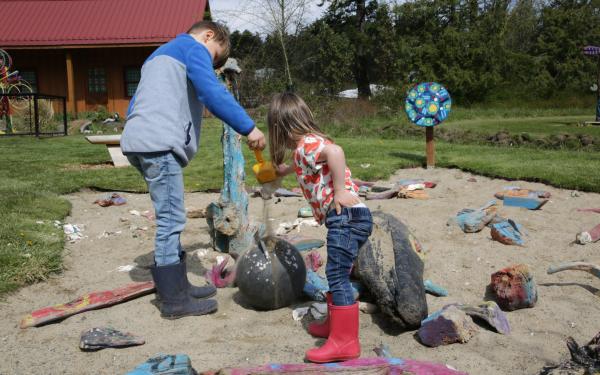 Text Editor
The rugged trail going through Madrona & Douglas Fir to the waterfront offers benches for shady picnics and surprising, cool, unusual and absolutely amazing sculptures. Fritz barked at a dragon sculpture, then found the water and we continued our walk out of the woods into a huge grass field, with, you guessed it, more art everywhere.
The kids caught up with us and we watched a Blue Heron sun in the middle of the freshwater lake. We meandered on, took pictures, talked about what makes art art, and ate the sandwiches we brought in the shade of a majestic Gary Oak near a giant world sculpture entitled "The Hand of God".
Image
Image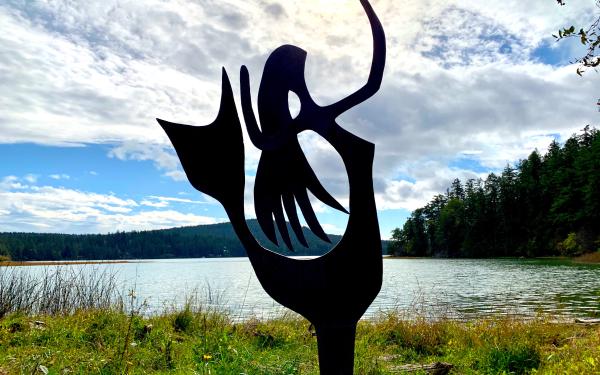 Text Editor
My absolute favorite, were the wishing urns. We wrote wishes on little pieces of paper, placed them on one of the urns and spun them, hoping for our wish to come true.
Even though we spent almost three hours at the park, we weren't able to see everything. All of us, including Fritz, vowed to come back for more.
Image
Image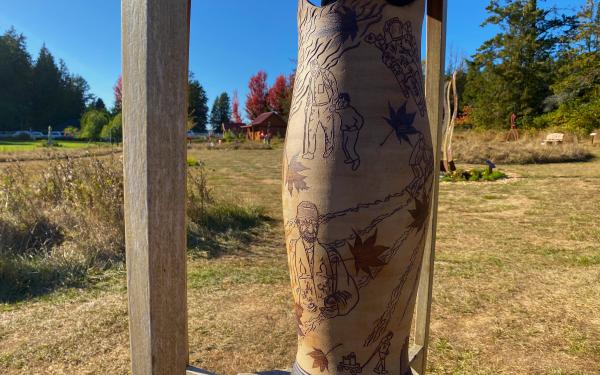 Text Editor
Afterward, we drove two minutes up the road into the Roche Harbor Resort and had ice-cream at the Marina in the sun. I smiled at my people and thought to myself that my wish had come true.
Image
Image