In the sylvan heart of San Juan Island, overlooking a serene pond, in a cedar shingled house, overgrown with grape vines, find the Duck Soup. Duck Soup, now in its 39th year and originally built as a woodshed, has been a Farm-to-Table restaurant since long before the term was coined and is taking the concept to its next logical level.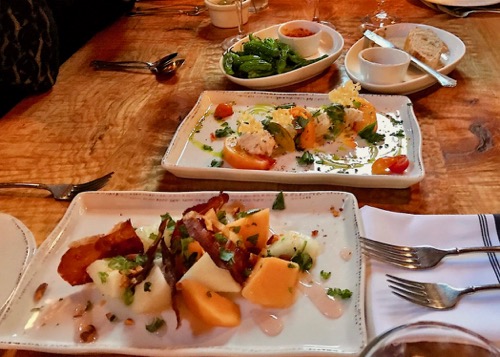 I like to know where my food comes from and to be able to tell what time of the year it is from just by looking at the meal in front of me.  Not only does Duck Soup's menu consist of locally sourced meats, seafood and seasonal produce from such Farmer's Market celebrities as Blue Moon Farm, the talented kitchen crew skillfully incorporates foraged edibles from sea and land as well as artisan goods made on the isle. When I treat myself to a fancy dinner out, I want to eat something I can't easily make at home. Everything here is made from scratch, including the complimentary sour dough bread and anchovy spread (trust me, it's delicious!) for the table. Signature dishes include Free-Range Duck Leg Confit, Steamed Westcott Bay Mussels & Clams and Jones' Family Farm Braised Pork Shoulder. All entrees come with a side of Mama Bird island greens or delicious homemade soup of the day.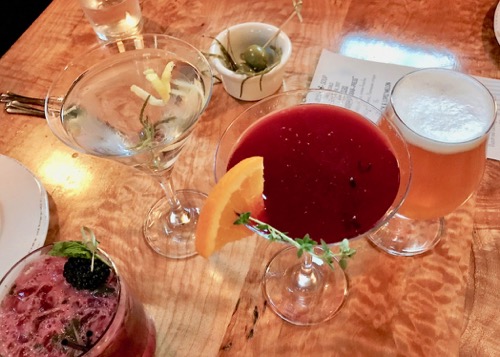 And then there are the libations, highlighting local wines and cocktails made with spirits from the San Juan Distillery and foraged ingredients like salal and seabeans. Bartender/alchemist Kari Koski creates not only innovative infusions, but also her own liqueurs. My favorite is the Beetnik - beet infused vodka, Combier d'Orange liqueur, closely followed by the House Martini, made with Spy Hop Salish Gin, Rainshadow Vermouth and served with locally foraged, pickled sea beans.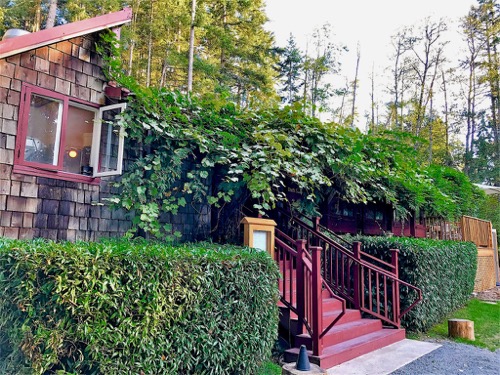 The rustic, lodge-like atmosphere and skilled staff make dining here a lovely, relaxing affair, perfect for a romantic dinner, a night out with friends or a family gathering. Duck Soup is also available for private events, holiday parties and wine events and regularly puts on themed Farm-to-Table dinners.
Duck Soup is open until Christmas and re-opens in February. Make sure you make reservations. And of note, the restaurant is wheelchair accessible. Plans for next year include a re-design of the outdoor seating area as a "forest lounge".
I can't wait.