My name is Falcor. I'm seven and a rescue. When people ask my Mom what I am, she says: "a dog".  Then everybody laughs. I'm not sure why, because I am in fact a dog. My Mom is the outdoorsy type and we spend most of our weekends exploring.  Last weekend she took me up to San Juan Island. It smelled amazing.
Text Editor
We stayed at the Earthbox Inn & Spa. I can tell right away if a place likes dogs. Earthbox does. There is a water dish outside the office for a cool drink when you come off the ferry. Puppies are welcome in the lobby. The staff is super friendly and by that I mean: offers you a welcome treat. Our room had food bowls, blankets and more treats waiting for me.
The cute town of Friday Harbor is not only perfectly walkable, but also really comfortable for dogs and dog people. Every restaurant, coffee shop and bar with outside seating allows dogs. I very highly recommend the soft baked pretzels at San Juan Brewing and the French fries at Blue Water Bar & Grill. While my Mom shopped for souvenirs, she left me in the car with windows down in a lovely shady spot by the ferry overflow parking lot, there were lots of good smells and nice people walking by.
Image
Image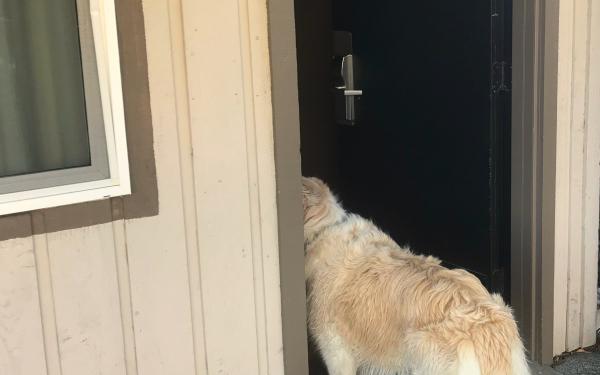 Text Editor
But let me tell you about the best day ever: the day we went to four beaches:
I licked my Mom awake bright and early. She loves that. Or maybe not. What do they mean, when they laugh and say "no" at the same time? Humans. So funny! We walked to Cynthia's Bistro by the Farmer's Market. Dogs were everywhere. Tied up in front of the Farmer's Market (no pups allowed), sitting out front of our café. I said "hi", got petted, admired and was even kissed by a little girl. Mom got savory pastries and coffee and off we went to playa numero uno:
Image
Image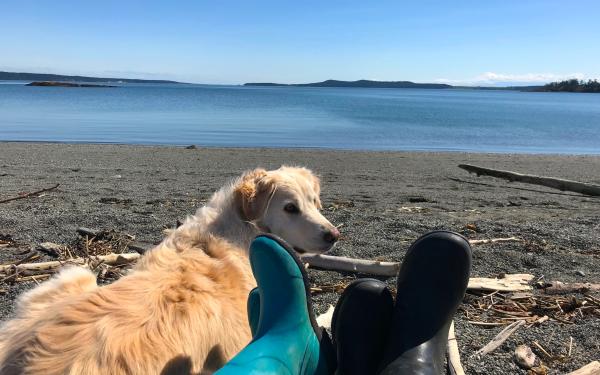 Text Editor
Jackson's Beach
Jackson's is just a mile outside of Friday Harbor, a beautiful pebble beach, with an old cannery on one side and pilings from a pier long gone on the other. After breakfast – gruyere and ham croissant for Mom and kibbles for me - my Mom threw a stick in the calm and shallow water for me to get my wiggles out. I love swimming. I love getting the stick. I don't love giving it back. I mean, what's the point? She is totally counting on my short attention span not to notice …wait, another stick!!!!
Image
Image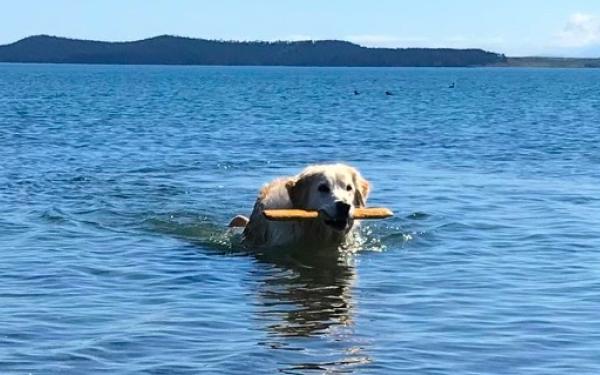 Text Editor
South Beach
Our next stop was South Beach, San Juan Island's longest, wildest beach. On the way there, my Mom explained that we were going to a National Historic Park and I would have to be a very good boy for the rest of the day, because there is so much amazing wildlife – otters, seals, sea lions, foxes, bunnies, eagles, whales - which can't be disturbed by roaming dogs. Just kidding. All I heard was: bla bla bla, very good boy, bla bla bla. I smelled so many critters. Some I had never smelled before. My Mom made me sit and watch a pair of eagles hunt for what seemed like forever. She took pictures. I was glad to be on the leash, because I'm not sure I could have stopped myself from joining in, it looked like so much fun! Such interesting smells. We took a very long walk along the beach, along cliffs, through prairie grass. The wind blew in my hair and I was so happy to be.
Image
Image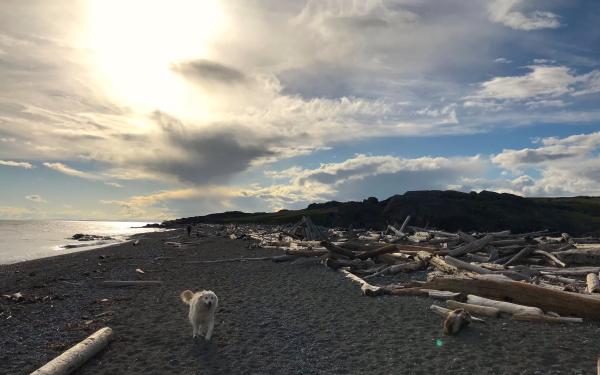 Text Editor
4th of July Beach
My mom got a bit chilly on South Beach and decided to cross to the other side of American Camp's peninsula: the sheltered 4th of July Beach. Apparently one can see both Friday Harbor and Lopez Island fireworks from here on Independence Day. I don't normally dig fireworks, but from a distance they are so much better than from up close and I do like my mom petting my head and saying Oooh and Aaah. At 4th of July Beach, we played in the low tide, sunbathed and listened to sea lions – they scare me, they are as big as Grizzly bears. Mom was reading and I was charming girls walking on the beach, doing my look as if nobody ever pets me, pretending I wasn't scared at all.
Image
Image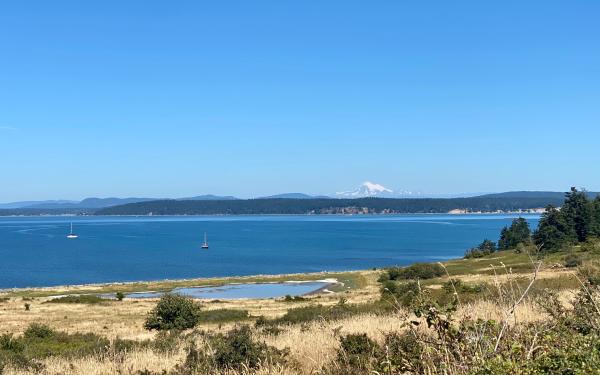 Text Editor
Lime Kiln State Park & Deadmen Bay
We drove back into town and had a quick dinner at San Juan Brewing (soft-baked pretzel, pizza, water for me, an Outer Island IPA for Mom, she said it was very good) before heading out to Lime Kiln State Park for the sunset. The park is also known as "the whale watch park". I have to say, I was glad we didn't see any whales. They are even bigger than sea lions. That's too big!
We hiked the 0.3 miles to Deadmen Bay along the steep cliffs. My Mom looked for Prickly Pear cactus, the only native cactus this far north. On the crescent-shaped beach, I found a tennis ball, another pup had left for me. How considerate! After playing ball in the field above the beach for a bit, we found a comfy picnic table with view of the lighthouse, watched otters and seals, or "water puppies" as my Mom calls them, and listened to the waves lapping ashore. As the sun set, my Mom took tons of pictures and I met a family, who sang together. Very nice people, even though they had no dog.
That was my favorite day on San Juan Island.
Image
Image