If you are in the midst of raising children and want to honor the mother of your babes with an unforgettable weekend or if you are all raised up yourself and plan on taking Mom on a mother-daughter (or son!) island getaway, then these tips are for you. San Juan Island in the Spring is marvelous and offers just the right mix of romance, relaxation and adventure.
Text Editor
1) Have something unexpected waiting in your room at check-in
We here at the Earthbox Inn & Spa consider ourselves your co-conspirators when planning a surprise getaway. Add a spa sampler box, a bottle of champagne or a box of chocolates to your room reservation. Let us help you with setting up whale watching or kayak tours or to make reservations at your favorite restaurant. And always check our Specials Page before booking  to get the best deals and don't miss out on spa specials.
2) Pampering at our Spa
You'll know best what makes her feel special and relaxed: a full body massage, a facial, or both? Don't forget we have an indoor heated pool, sauna and hot tub for extra relaxation.
Image
Image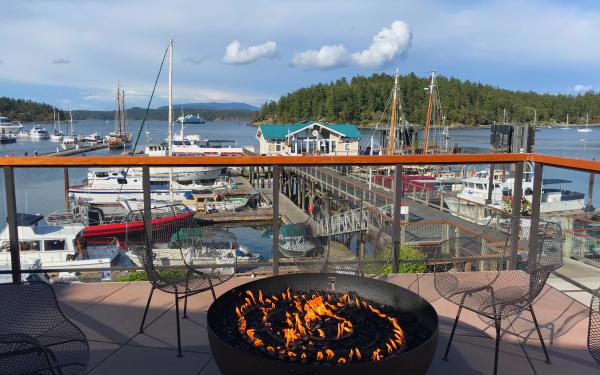 Text Editor
3) Water View Brunch
If your Mom is a seafood lover, Downriggers Restaurant a must-do. This elegant place with dramatic views of the waterfront offers a multitude of freshly shucked oysters, local mussels, fresh crab and more all paired with delicious house-made cocktails and frozen drinks.
4) Wildflower Hike
May is when the Fawn Lilies, Indian Paintbrushes and sweet smelling Nootka Roses emerge on the forest floors, meadows and prairies. Hike the steep, short Mt Young trail in English Camp National Historical Park to take it all in, listen to the songbirds and get rewarded with incredible views on top.
Image
Image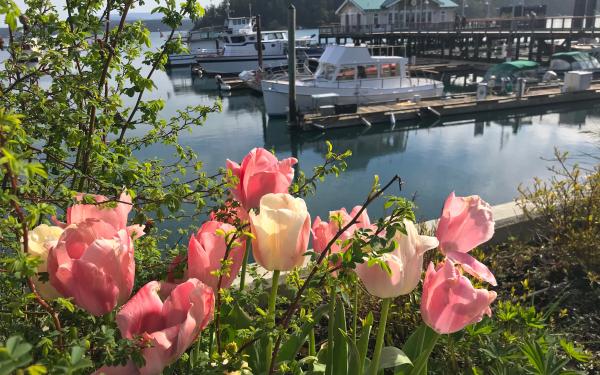 Text Editor
5) Friday Harbor Shopping Spree
Our cute coastal town is completely walkable, if a bit hilly. The streets are lined with adorable boutiques, gift and gourmet shops, galleries and truly unique island-made stores, like the local Pelindaba Lavender Store, offering over 200 lavender products for decorative, culinary, personal care and therapeutic uses.
6) Whale & Wildlife Tour
Seeing Orcas and Humpbacks in the wild is truly awe-inspiring, whether it's your first or your fiftieth time and San Juan Island is the place to do it. Splurge on a whale and wildlife tour with our friends at San Juan Safaris and make memories of a lifetime
Image
Image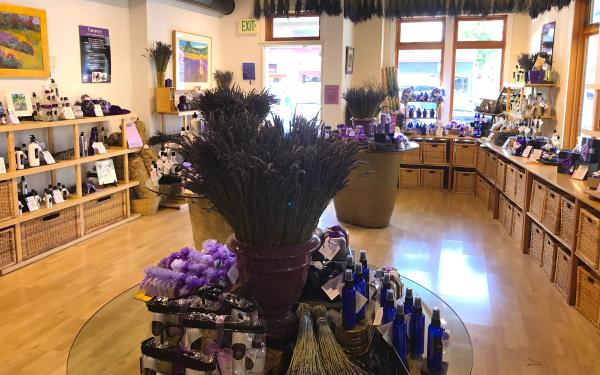 Text Editor
7) Art Class
San Juan Islanders are an artsy bunch. There are gorgeous sculptures all throughout town, three museums, nine galleries, not to mention the treasures one can find at the Saturday Farmer's Market. Being surrounded by so much creativity is truly inspiring. If your Mom is artistically inclined, check out the arts classes offered by the Alchemy Arts Center and the San Juan Islands Museum of Art.
8) Walk to a Wine Tasting
Six wine bars call Friday Harbor their home. Snack on yummy charcuterie platters, learn about wine and champagne and get amazing deals on local wine to take home.
9) Sculpture Park and sunset dinner in Roche Harbor
Explore San Juan Islands Sculpture Park featuring over 150 sculptures along beautiful Westcott Bay before having a sunset dinner at elegant McMillen's at the historic resort of Roche Harbor.
Image
Image