Only 65 miles north of Seattle, San Juan Island with its breathtaking nature and charming slower pace coupled with exhilarating adventures, feels like worlds away. Spring Break is especially delightful, fun for the entire family and so easy to plan. Find your reasons to visit here:
Half the Rainfall as Seattle
We Washingtonians love our rain and all the riches it brings. And yet…right around now would be a nice time for a break, no? San Juan Island sits in the Olympic Rain Shadow and has an average of 247 sunny days per year. Remember "sunny" isn't necessarily "warm". Don't forget to don your Pacific Northwest layers, you know the drill.
Significantly less expensive than a Summer Trip
Being on an island is expensive. Just think, that everything needs to be shipped or flown over. In addition property, wages, taxes and utilities, especially drinking water, are much more than on the mainland. Come visit in Spring, when the ferry fares are lower and we here at the Earthbox Inn & Spa run amazing specials.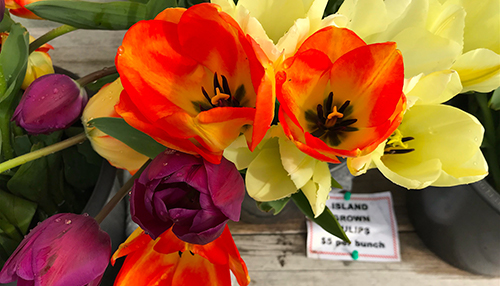 Flower Power
The emergence of Spring and wildflowers on San Juan Island is truly an event. Fawn Lilies, Blue Camas and Indian Paintbrush dot the island trails and meadows. The prairie of American Camp National Historic Park is abloom with daffodils and wild roses. The slightest wind lets tender apple and cherry blossoms dance in the pristine air like soft snowflakes. No Winter lasts forever, no Spring skips its turn.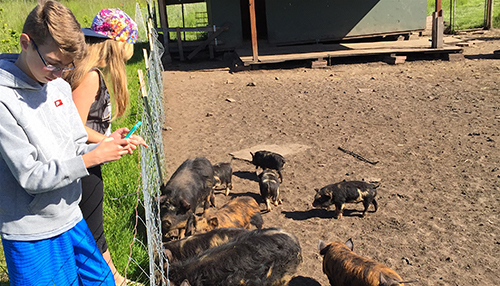 Cuteness Overload
It's baby time. From birds to seals to deer to whales, everybody is fruitful and multiplying. The Humpbacks are returning from Hawaii, new calves in tow. Island pastures are speckled with baby sheep, pigs and cows. When hiking, listen for the unmistakable whistle of the Bald Eagle and maybe get a glimpse of an eaglet getting parental flying lessons.
Whale Watching
Two different types of killer whales return in Spring to the waters of the Salish Sea. The Transients, who travel in small family groups, have been seen earlier and earlier in the year and more frequently, due to an abundance of harbor seals in our area, which is their favorite food. The endangered Residents, who eat mostly the also-endangered Chinook (King) Salmon, made more appearances later in the season last year. Let's see what this Spring brings.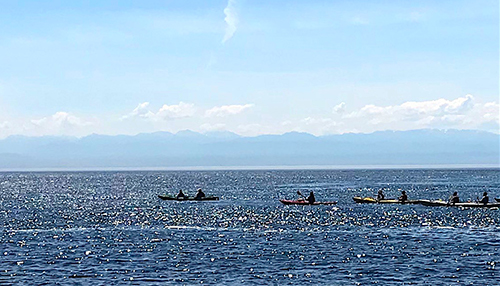 Bucket List Adventures
As the island emerges from its Winter slumber, the adventure providers get their ducks, or rather their kayaks, zip lines and single engine planes in a row. Be on one of the first guided kayak tours in search of Orcas of the year, dare to go zip lining or take a flight lesson over the magnificent island archipelago.
No Crowds
It's easy to get away from the crowds on San Juan Island. Even in the height of Summer you can find yourself alone on a beach or on a mountain if you just walk for a few minutes. In Spring though, there are no crowds to get away from. No lines to get into your favorite restaurant or museum, no issues finding parking at your favorite trail head or park, no waiting your turn at the whale watching platform at Lime Kiln State Park and nobody on the beach but the critters, who live there and you.
Rich Culture
Whether you are a history buff or a contemporary art connoisseur, San Juan Island has a park and a museum just for you. Explore the island's rich history at the two National Historic Parks. Meander through the outdoor San Juan Historical Museum in Friday Harbor. Get inspiration at the newest exhibition of the San Juan Islands Museum of Art, a block from the Earthbox. Or head to the 20-acre San Juan Islands Sculpture Park on the north end of the isle and check out over 150 creations from artists all over the world.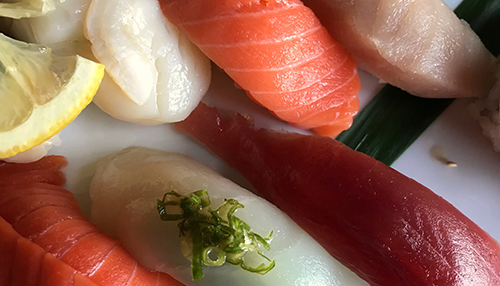 Amazing Cuisine
Find out why the islands are known as the "gourmet archipelago". Treat yourself to a meal of island grown fare and fresh, local seafood, artfully paired with island made wine, craft beer and spirits.