It's Spring and San Juan Island's meadows and mountains laugh in flowers. The lush farm valleys are dotted with baby sheep and cows and blooming orchards. The Humpback Whales are returning from Hawaii with their new calves. Bald Eagles are teaching their young how to fly. Experience all that on a leisurely walk or a brisk hike on San Juan Island.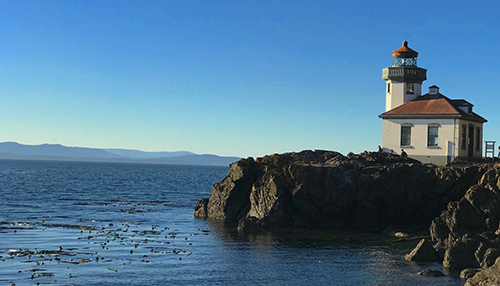 Whale Watch Park
Nothing says "San Juan Island" like Lime Kiln State Park with its iconic lighthouse, whale watching platform and re-built lime kiln. The 36-acre park features winding trails along gorgeous shoreline, over mossy cliffs, through dense forest. Look for whales, then follow the trail to the rebuilt lime kiln on the park's north side. Exit the park through a simple gate and follow the trail into the woods. Climb high above the Salish Sea through former lime quarries, lime kiln ruins and Madrona trees. Keep right when the trail forks and end up at Deadman Bay, a beautiful crescent shaped, driftwood beach. Follow the small trail along the cliffs back to Lime Kiln State Park.
Length:  2.5 miles round-trip
What You Might See: Orcas, Humpbacks, otters, deer, hawks, Bald Eagles, woodpeckers and other forest birds.
South Beach
San Juan Island's longest and wildest beach on the south end of the island offers endless hiking and wildlife watching opportunities. Park your car at South Beach in American Camp National Historic Park and walk south along the pebble beach or north through blooming prairie for stunning ocean views.
Length:  however long you want
What You Might See:  bunnies, foxes, seals, sea lions, otters, Orcas, Humpbacks, Bald Eagles, seabirds and prairie birds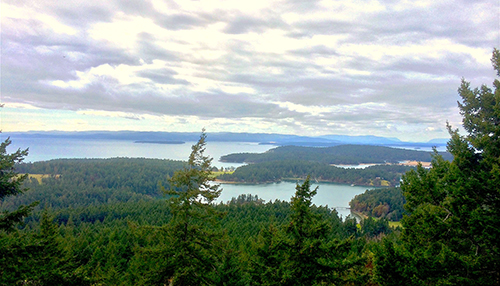 Mt. Young
Park at English Camp National Historic Park and follow the signs to the Mt Young trailhead. A steep hike through old-growth Garry oaks and a carpet of wildflowers will release you onto the moss-covered summit of Mt. Young and reveal panoramic views of the Olympic Peninsula, the Canadian Gulf Islands, Henry Island, Pearl Island, Spieden Island and Garrison Bay. Explore the trails up top and respectfully observe the eagles nesting up here.
Length:  2.2 miles, back-tracking route
What You Might See:  Bald Eagles, hawks, owls, woodpeckers and other forest birds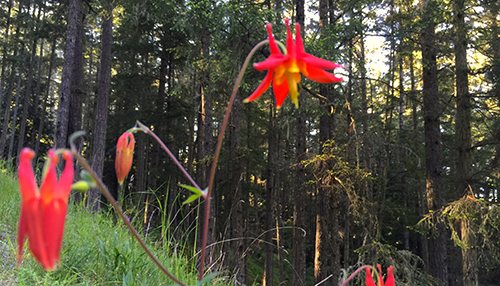 Mt. Grant
About 5 miles out of Friday Harbor on Beaverton Valley Road find the Mt. Grant Preserve, San Juan Island's highest, publicly accessible mountain. Hike through old-growth Douglas Firs, identify the wildflowers along the trail and enjoy a 360-degree view of three of Washington's five volcanoes: Mt. Baker, Mt. Rainier & Glacier Peak, as well as the fertile valleys of San Juan Island, the Gulf Islands, the Olympics and the Cascades. Watch eagles and hawks playfully riding the thermals below you.
Length:  1 mile round-trip
What You Might See: Bald Eagles, hawks, woodpeckers and other forest birds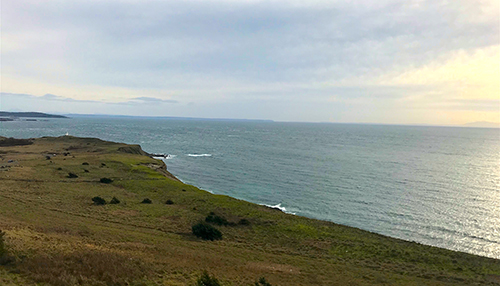 Mt. Finlayson
Park at Jakles Lagoon where the gentle slopes of Mt Finlayson divide South Beach from Griffin Bay. Walk through the woods and wildflowers up a steep trail opening to the prairie high above the Strait of Juan de Fuca. See Cattle Point Lighthouse, the snow covered Olympics and Mt Baker in the distance, before returning on an easy prairie trail to your car.
Length:  ​3.5 miles round-trip
What You Might See: foxes, bunnies, owls, Bald Eagles, hawks, seabirds, seals, sea lions