If this is the year—the one where you pop the question--do we ever have a treat for you! We have scouted the most picturesque, ridiculously romantic, absolutely gorgeous places on San Juan Island to get engaged. All you need to do is get here, be true and promise to love each other until the stars go out and the tides no longer turn.
Please know, that we here at the Earthbox love people in love. We are here for you to help planning your surprise. It's one of our favorites!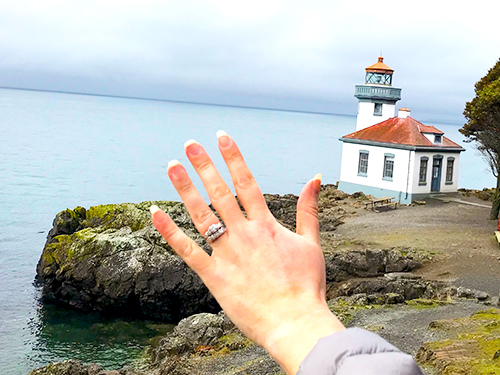 By the Lighthouse at the Whale Watch Park
Lime Kiln State Park, with its historic lighthouse, whale viewing platforms, trails and picnic benches is one of the best places to see Orcas from land. In Summer it is not uncommon to see the whales swim by two to three times in a day. Come for sunset with a picnic and a plan.
Write it on the Beach
Check out the sandy lagoons in American Camp National Historic Park and write your question on the beach with sticks or stones. Decorate with rose pedals and sea shells. Pick up your love for a long walk on the beach and accidentally stumble upon it.
…and/or fly over it
Prepare your proposal on the beach, then treat yourselves to a scenic flight over the archipelago with Westwind Aviation. Have your pilot take a detour over your proposal and have the camera ready.
On Top of Mount Young
Mt. Young, located in English Camp National Historic Park, is a steep, exhilarating, three-mile hike, by old-growth Garry Oaks to the top of the world. In Spring the hills are covered with wildflowers, the top is mossy and Bald Eagles are riding the thermals. The view is simply breathtaking.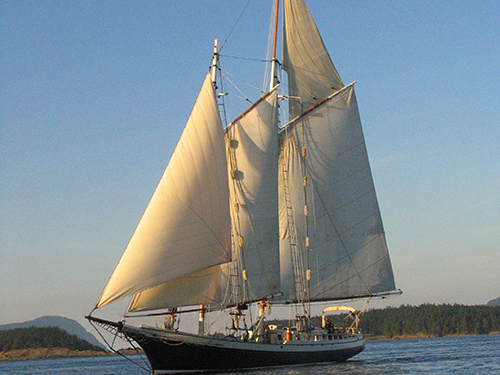 On a Classic Sail Boat
Book a sunset sail on the wooden schooner Spike Africa, watch Orcas, Humpbacks, sea lions, porpoises and seabirds while gliding through the magnificent Salish Sea, how it was meant to be experienced.