Maybe it's because we didn't actually become American until 1872, that we Islanders take our Independence Day so seriously. And by "seriously" I mean, we put on a wicked party, complete with parade, picnic and two firework displays complete with an evening of dancing our socks off. It's a festive, fun affair for the entire family, bringing Islanders and visitors together, celebrating the rich history of our island and our nation. Make a long weekend of it and come join us in the fun festivities.
Text Editor
10:30am -Parade & Pig War Picnic
We start Independence Day with an adorable small-town parade through quaint Friday Harbor, immediately followed by a Community Picnic at the San Juan Historical Museum grounds, where you can enjoy live music, the best BBQ in town, a pie eating contest and numerous, fun kids' activities.
12:30pm - Roche Harbor Donut Eating & Log Rolling Contest
Meanwhile the cute historic resort of Roche Harbor on the north end of the isle is putting on its own party, which is so worth checking out. After the kids' games at the Pool Lawn, there will be a donut eating contest at the West Lawn, followed by the not-to-be-missed Blindfolded Dinghy Race and a Log Rolling contest at the Wharf Building. If this is enough action for you for one day, have a lovely dinner at one of Roche Harbor's restaurants and enjoy their fireworks at 10:30pm over the harbor.
Image
Image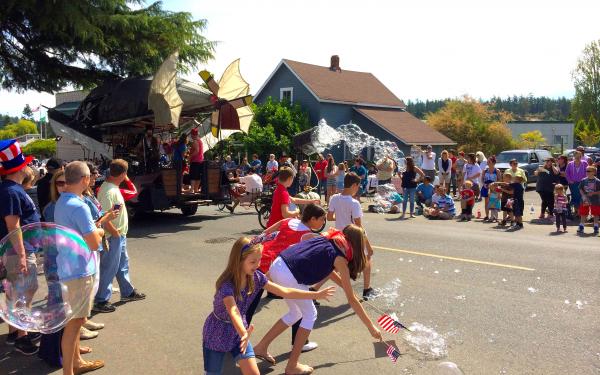 Text Editor
6:00pm - Live Music at the port of Friday Harbor
Or return to Friday Harbor and start dancing to live music at the port, watch the sailboats bob and get ready for the most spectacular fireworks over the harbor around 10:00pm.
Insider Tip:
Have a late night picnic on 4th of July Beach in American Camp and watch Friday Harbor's and Lopez Island's fireworks simultaneously from this serene pebble beach.
Image
Image