Do you regularly bring home tons of clean, untouched clothes from your trips? Are you at a total loss when it comes to decide how many outfits to bring for the kids on an island trip? Do you have trouble deciding what to bring when both sea kayaking and going to a fancy restaurant are on the menu for your weekend getaway? If you are visiting San Juan Island for a night from Seattle or for a week from Spain, we have some Earthbox guest-tested, Island specific packing tips for you.
Text Editor
1. Make a List
Write down all of the things you can't live without or you can't buy: prescription glasses, medicine, cell charger, Snuggles, the stuffed rabbit. Then write down the adventures you have planned and the clothes to go with. Keep in mind, you can buy anything you forget, except for those items on the first part of your list.
2. Choose the Right Bag
If you are coming for just a few days, bring the kids' clothes in a smaller backpack, unpack it once you are at your hotel, then use it for day trips while you are hiking or biking. If you are walking on to the ferry or taking a seaplane, choose a backpack or suitcase with rollers over a duffel bag. Friday Harbor is hilly and having your things on your back or on wheels will be more comfortable.
Image
Image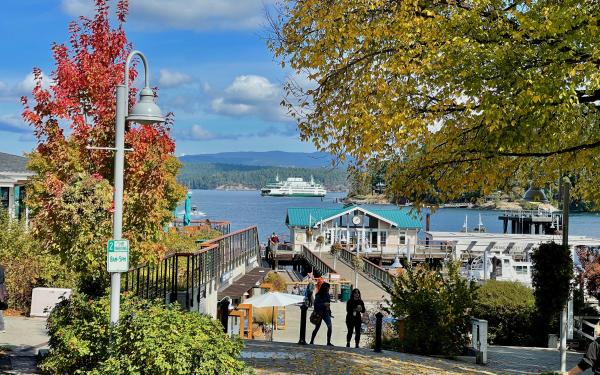 Text Editor
3. Know your Weather & Evening Temperatures
Check the forecast and be prepared for fast changes in weather. San Juan Island is in a rain shadow. We get about a third of the rain that Seattle gets. Our climate is temperate with cool nights. If you are out on the water, whale watching or kayaking, you will feel a breeze, even on hot, still days. 
4. Know what we have here at the Hotel
We at the Earthbox Inn & Spa offer body care products from the local Pelindaba Lavendar Farm. Your shampoo, lotion and conditioner will have traveled less than you to get to your room. We also have hair dryers, irons & ironing boards, ear plugs and in case you forgot yours: toothbrushes, toothpaste & razors. We offer Pack'n'Plays and air mattresses in selected rooms for our littler guests.
Image
Image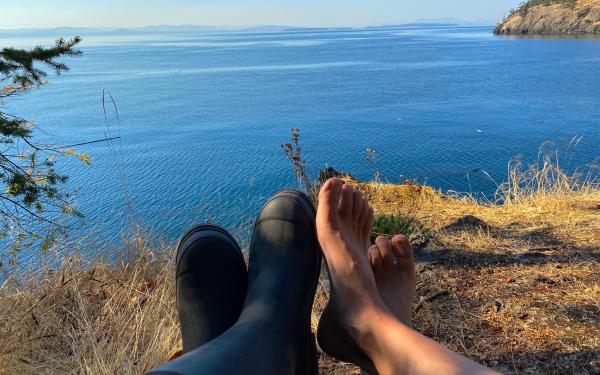 Text Editor
5. Go for a Swim & do Laundry
We at the Earthbox Inn & Spa have an indoor pool, sauna, hot tub and exercise room, as well as guest laundry facilities. Save some space in your suitcase by doing a little laundry on your trip, especially when travelling with smaller kids. Set some time aside for fun in the pool while your clothes are in the washer and dryer.
6. Layers, it's the Pacific Northwest
Sometimes we have virtually every type of weather in just one day on the island: sun, rain, hail, wind, fog, in no particular order. Design your outfits around layers. Think: tank, Tee, light sweater, flannel shirt, hoodie, wind breaker.
Image
Image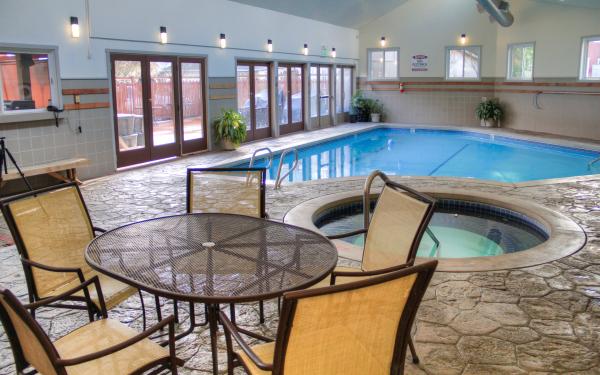 Text Editor
7. The Scarf
Bring your lovely, large, flowery scarf. You can accent an outfit, wrap it around you when it's a tiny bit chilly, wear it over your shoulders for sun protection and over your head when the wind blows on your whale watching tour. You can drape it over some driftwood for shade, sit on it, or serve your picnic on it. The scarf is a San Juan Island essential.
8. Ziplock it
Put a day's outfit for each kid in large zip lock bags. Underwear, socks, pants, shirt. You won't believe the time it will save getting ready in the mornings.
Image
Image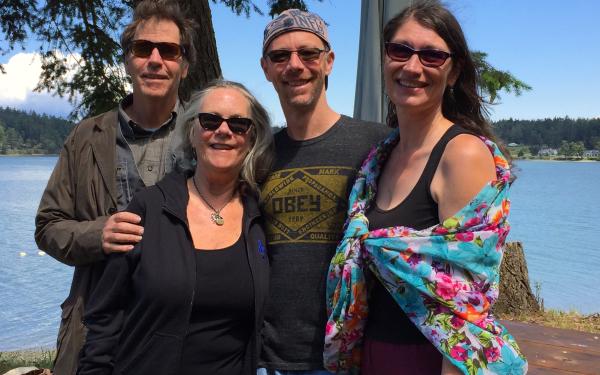 Text Editor
9. Bring the Right Shoes
Comfy sneakers and/or river sandals are enough. Almost every hike on San Juan Island is sneaker/sandals friendly. Sneakers/Sandals are great to explore Friday Harbor and excellent on kayak or whale watch tours. Even though we are proud to have some of the fanciest restaurants in the region, you and the little ones may come as you are, anywhere, anytime.
10. Roll, don't Fold
Rolling your clothes saves space. Use tissue paper when rolling things up to avoid wrinkles.
Image
Image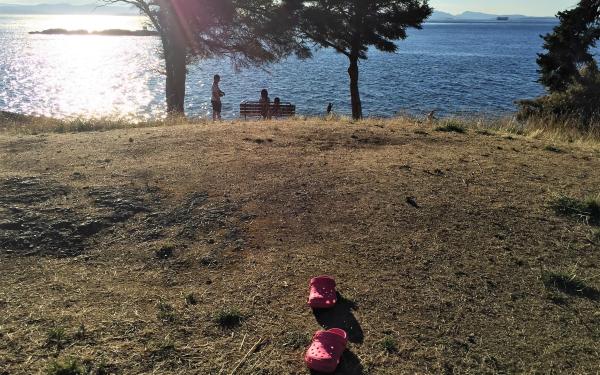 Text Editor
11. Bring something to do for the boat
If you are traveling with the Washington State Ferry bring a snack and a few games, crayons and paper, so the kids don't get bored. The Washington State Ferry has huge puzzles set up, all passengers are welcome to work on.
12. Bring extra Plastic or Tote Bags
You will be able to keep dirty & clean laundry apart. Bring a bag to the beach for the seashells, beach glass and other treasures the kids will find. Wrap that leftover sandwich in a bag and bring it on your hike. Hide the souvenirs. Put the wet swim suits in one. Extra bags are a delight to have.
Image
Image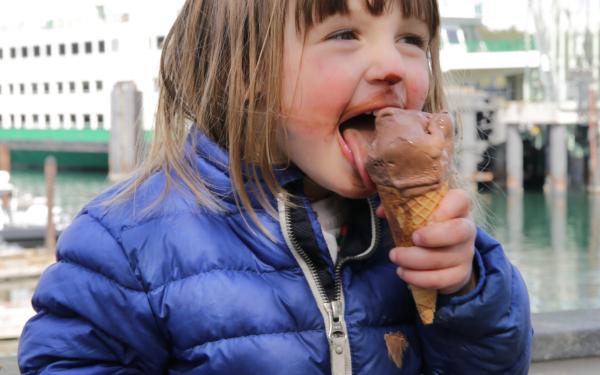 Text Editor
13. Stow the Little Things
Pack underwear and jewelry in your shoes.
14. Go through it One More Time
Lay out everything you plan on bringing. Swap for lighter options. Put a couple of outfits away.
Image
Image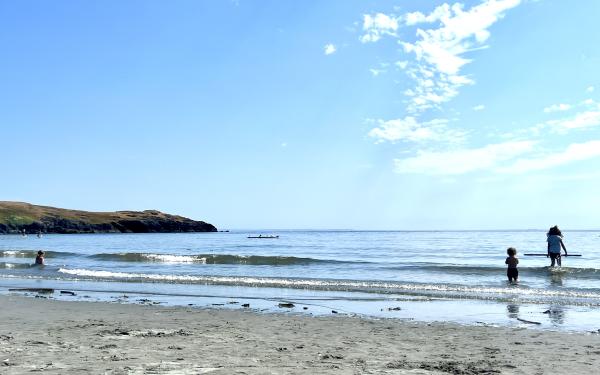 Text Editor
15. Ship Stuff
Whether you ship something from home to us or you buy something here and ship it back home, we are here to help you make sure all of your things are where you need them, when you need them.
16. Leave the Books & Maps at Home
Friday Harbor has amazing new & used bookstores. Many cafes offer book swaps. There are little free libraries all over town. Pick up a map on the ferry, because your cell service will be spotty outside of town.
Image
Image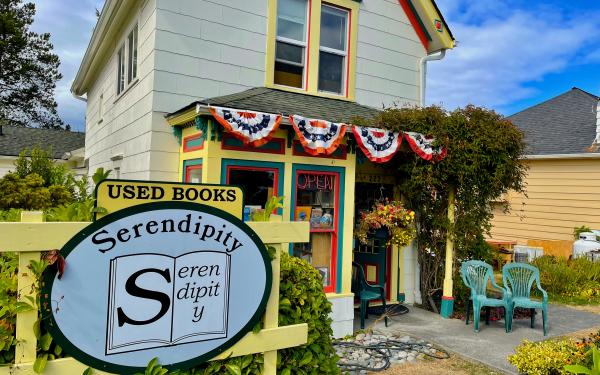 Text Editor
17. Useful things to have on San Juan
If you have room, bring a flashlight and binoculars. San Juan Island has very little light pollution and when it gets dark, it's dark. Binoculars will come in handy whether you are watching Orca whales or Bald Eagles. Don't forget sunglasses and sunscreen. The wind out on the water and on the beach will make it easy to forget to protect your and your baby's skin.
18. Leave room for Boutiques
Friday Harbor has absolutely stunning boutiques and consignment stores. You have nothing to be afraid of in case you forgot something, you may even choose to leave a little room in your bag and buy something here.
Image
Image