One of the deeply rewarding things about working at a hotel on a small island in paradise, is to meet people from all over the world, from all walks of life, with different expectations about what is normal and what is exotic. All those people come to us with questions. Some of which we hear every year, others surprise us and we need to find the answers ourselves (we love that, so don't stop asking!) We compiled the most frequently asked questions for your information and amusement, because as we all know, there is no such thing as a stupid question.
Text Editor
1. When do the Orca whales come by?
You can see Orca whales all year around in the waters around San Juan Island. The most frequent sightings are between May and September. There is not a specific time of day that is better than another to go look for whales.The whales do not operate on a set schedule, so seeing them from land takes a bit of luck and patience. Check out the Lime Kiln State Park on the west side of San Juan Island, the best place to see Orcas from land in the nation. Or treat yourself to a whale watch or kayak tour with our friends at San Juan Outfitters.
2. Is there a bridge from the mainland to San Juan Island?
No, there isn't. To get here, you can take a small plane or the Washington State Ferry from Anacortes, WA. You can bring your car on the Washington State Ferry when you make a reservation. Your fare is roundtrip.
Image
Image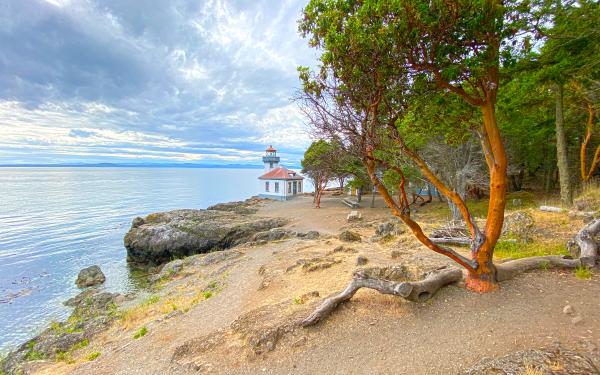 Text Editor
3. Are we in Canada or the US?
San Juan Island has belonged to the USA since 1872, when the so-called Pig War between Great Britain and the US was decided. You can visit English Camp on the north side of the island and American Camp in the south and learn about the almost 20-year occupation by both armies while the statehood of our isle was in limbo and luckily only one pig lost its life.
4. Why is Friday Harbor called Friday Harbor?
You may hear varying stories about how our little hamlet earned its name, but we subscribe to the following: A sheepherder of the Hudson Bay Company by the name of Joe Friday settled in this beautiful harbor in the mid 1900's. Islanders began to refer to the bay as "Friday's Harbor". Friday Harbor was incorporated in 1909 and remains the only incorporated town in the archipelago.
Image
Image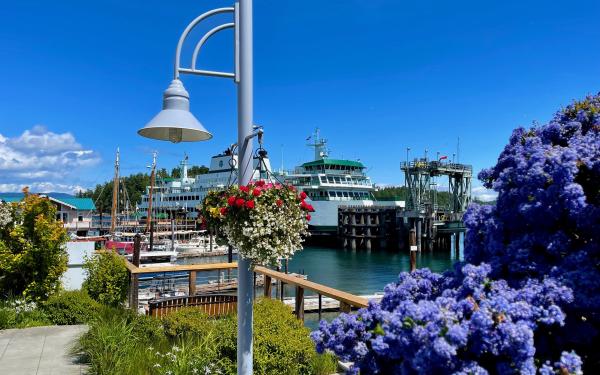 Text Editor
5. Why is it so expensive here?
Everything, from coffee to cups, from pillow to nails needs to be shipped or flown over. Taxes, wages, property and utilities, especially drinking water, are much more expensive than on the mainland. Our summer season is only two and half months long. These are a few factors to contemplate. If cost is an issue, consider visiting in the off or shoulder season, when ferry fares are lower, we run amazing Specials and you have the beaches and parks to yourself.
6. Is there food delivery on the island?
Friday Harbor has a unique and tasty food culture. We don't have any fast food chains or take-out delivery. Most restaurants utilize produce, meats, cheeses and seafood grown here on the island and everybody will be delighted to prepare a meal for you to pick up. No problem in our small town, where everything is within fairly easy walking distance.
Image
Image
Text Editor
7. Do the ferries run in the Winter?
Yes, the Washington State Ferry runs year-round, even in very inclement weather. Airplane travel may be affected by Winter weather.
8. Are there bears here?
No. Also, surprisingly, we don't have squirrels on the island. Our biggest predators are foxes, eagles and raccoons. Our largest land animals are very friendly deer.
Image
Image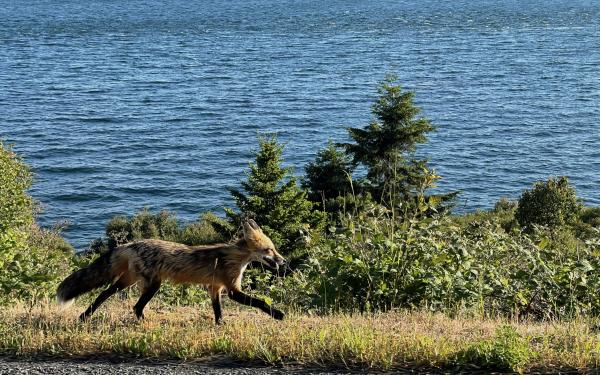 Text Editor
9. Where does your drinking water come from?
There are no rivers on San Juan Island. Residences outside of Friday Harbor have wells for drinking water. The town maintains a precious, dammed lake in the middle of the island, called Trout Lake, which is not accessible to the public. From there drinking water is treated and pumped into town. 
10. Is it true that there is no cell service?
There is great cell reception in Friday Harbor. As soon as you leave town though, cell service gets spotty. Sometimes, when you are on the west side of the island, Canadian cell towers pick up your signal and you may incur foreign roaming charges. In that case, call your cell provider and let them know, that you never left the US. Or better yet, turn your phone off for the weekend.
Image
Image