Don't let the weather stop you from visiting the island.  Besides laying in the Olympic Rain Shadow and enjoying over 247 sunny days per year on average, there's so much to do—and see—even from the comfort of your car.  This is a great time to take a driving tour of beautiful San Juan Island, listening to lovely music and taking it all in.  We have found the perfect spots just for you, where you suddenly come around a corner and the vista before you simply takes your breath away.
Text Editor
South Beach
Take Mullis street out of Friday Harbor, follow until it becomes Cattle Point Road. Go south for about seven miles to American Camp. Once in the camp take the South Beach turn off on your right. Look for bunnies and foxes on the vast, golden prairie. Then you'll see the mighty Strait Juan de Fuca.
Image
Image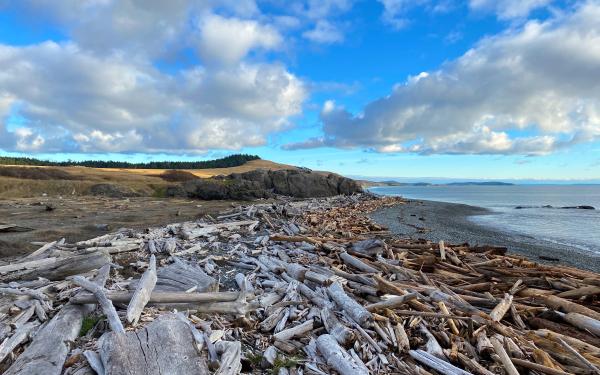 Text Editor
Cattle Point Road
From South Beach go back to Cattle Point Road. Take a right and follow the road along the steep cliffs of Mt Finlayson. Look for the old road below you, which was endangered by erosion and is now covered with Prairie Grass. Take in the views of the other islands and the snow covered Olympic Mountains beyond the deep, blue sea. When you see Cattle Point Lighthouse on your right, pull over and turn around or take the short stroll to the lighthouse to watch every sea bird you have ever heard of.
Image
Image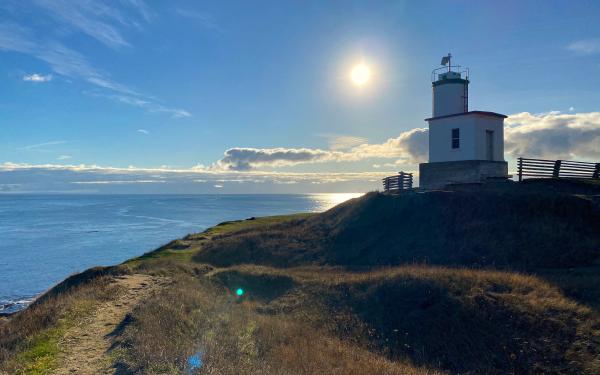 Text Editor
False Bay Drive
Go back towards Friday Harbor on Cattle Point Road. Take a left on False Bay Drive and savor the lush farmland rolling by and the poplars stand primed and proud for winter in the distance.  Pull over at False Bay, listen to the waves, feel the wind and breathe the salty air.
Image
Image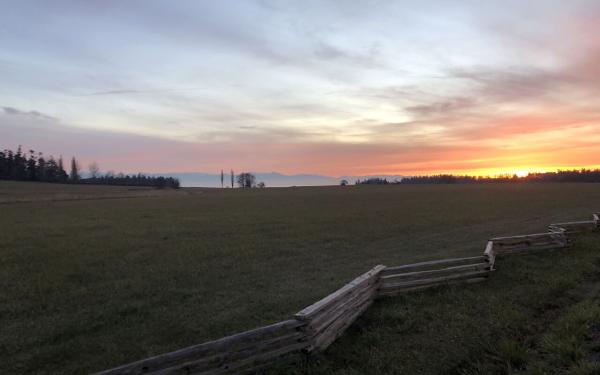 Text Editor
West Side Road
Follow False Bay Drive to Bailer Hill Road. Take a left and follow the road up a steep hill. As you crest, look to your right. There is an original Frank Lloyd Wright design house on the hills. Continue north, by farm stands, old apple orchards and Paula West's pottery studio. The road becomes windy, then suddenly opens to dramatic views of Haro Strait and Vancouver Island. Follow the road to Lime Kiln State Park, the best whale watching park from land in the world. Have a picnic and watch for Black Fish before returning to your cozy hotel room.
Image
Image