Summer Solstice Weekend Getaway to San Juan Island
What better way to honor our annual trip around the sun than to spend the longest days on a gorgeous island in the Pacific Northwest, on the cusp of Summer?  With so many fun things to do the weekend practically plans itself.
My hubbie and I treated ourselves to a Summer Solstice weekend getaway to San Juan Island last year and had the time of our lives.
It started with catching an earlier ferry by accident. I know. Let me tell you: We dutifully rolled up to the Anacortes Ferry Terminal, reservation in hand, one hour before our boat was supposed to depart. We had heard that one of the ferries was running only at half speed and every single ferry was going to be late. Yeah, that's a bummer, but you know what? We were on a beach in the sun, the restaurant in the ferry terminal was open, we got to watch cute dogs and kids and birds. We took a stroll to the beach and skipped stones, when a ferry docked. It wasn't ours. There were announcements, but we couldn't clearly hear them. Just to make sure, we walked back up to the car lanes and asked a ferry worker what was going on. He said "I'm trying to get you all on that boat, all I need is for you to return to your car". Wahoo! The ferry running at half speed was so behind schedule that they decided to skip an entire run and we got to be in Friday Harbor an hour early when we were imagining that we would be hours late.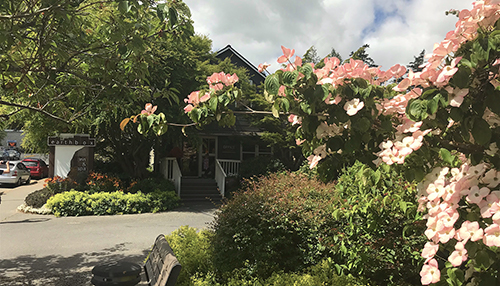 We had booked a room at the Earthbox Inn & Spa, a self-described "retro-motor inn". I liked it. I loved the gardens everywhere throughout the property, dog woods and stargazer lilies in full bloom, friendly people and nice atmosphere. After an uncomplicated dinner of Seafood Bisque and Steak Salad at the Cask and Schooner, we enjoyed cooling off in the Earthbox' Pool.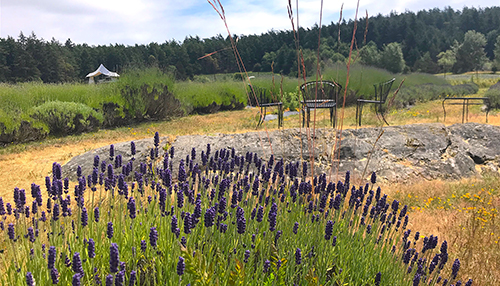 I was eager to get to the Pelindaba Lavender Farm the next morning. Our daughter is getting married there next year and I just had to see it. So gorgeous, even though not all of the lavender was in full bloom yet (the "height of purpleness" is July and August). Of course I was prepared to smell, see and touch lavender, I never knew that you can hear it too. A million bees happily buzzing away--bit sedated from the purple goodness—and absolutely not at all concerned about us humans.
I'm so impressed with this farm. It actually started in 1998 as a hobby and as a way to preserve land from development. In 2001, Pelindaba opened its fields and first retail endeavor, the Gate House Farm Store on the premises, stocked with a few value-added lavender products, to the public. Today Pelindaba employs about 50 people year-round, makes over 200 lavender products for body care, culinary, household and decorative purposes and operates 12 stores nation-wide.
The fields are stunning. In 2010, they added a visitor's center behind the farm store with educational displays worthy of a lavender museum. There is a Lavender Festival in mid-July with live music, food and artist booths, and I hear it is absolutely amazing. The owner Stephen Robins gives free tours on Summer weekends and there are craft workshops for kids and kids at heart throughout the Summer. I can't wait to give our girl away here next Summer!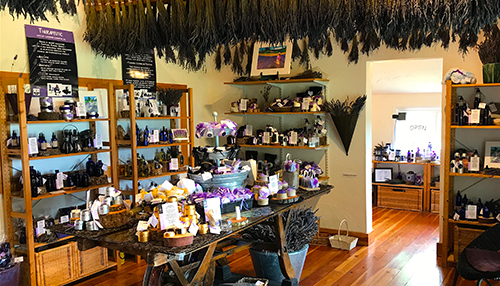 I spent an undisclosed amount of money at the store, which, unlike the other 11 retail stores, often offers small batch, unique lavender themed items crafted by island artists only available here at the Farm.  I'm a card writer, that's how I maintain my long distance friendships and so I stocked up, among other things, on beautiful postcards from paintings by local painter Allison Johnston. More on that later.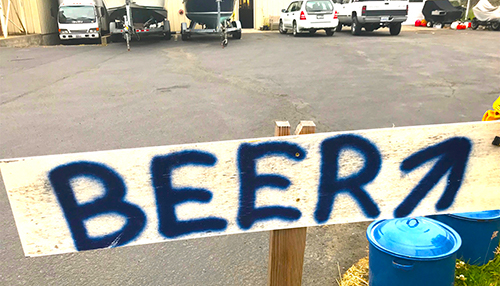 Back in Friday Harbor we headed to the Oar House for storytelling. Located in a boat repair shop behind the local thrift store, this place is what I call a "best kept secret". The only sign indicating that you are in the right place, is a handwritten board with an arrow, saying "Beer".  There are maybe 45 rustic seats in the maritime-themed, snug place. You order at the bar. Besides a few guest taps, Oar House serves their own, tiny batch microbrews, which are all gluten free.  People share tables and so we got talking to strangers. We shared tales of our tour of the Lavender Farm. Turned out that we were sitting with Allison Johnston, the artist who's postcards I had bought earlier that very day! Only on an island…
Then it was storytelling time. Anybody could throw their name in a hat. You got seven minutes, no notes and your story must have happened to you. The theme was "conversations you wished you had". We had such a good time. Old and young folks told stories, islanders and tourists, embarrassing, funny, raw and thought-provoking, we laughed and cried and hollered our way through the night.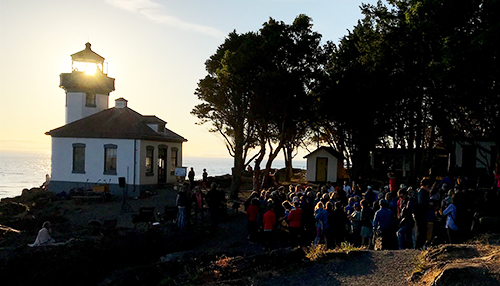 The real reason though that we chose this weekend for our getaway was the Annual Orca Sing at the lighthouse in the whale watch park. Every Summer Solstice, Seattle's Cantabile Choir, together with members of the Lummi Nation, welcome the orcas back for the summer in song. The interpretive center in the historic Lime Kiln Lighthouse is open and the park rangers offer tours of the light house tower. The cliffs around the light house are filled with lawn chairs and blankets, families picnicking and basking in the Summer sun.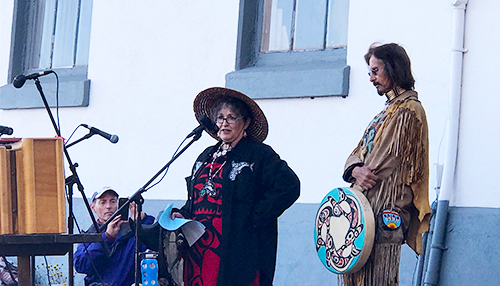 The performances and speeches on the state of our orcas were lovely, if a bit solemn. Where the transient, mammal eating orcas are doing really well, our resident, Coho Salmon-eating orcas, the J, L and K Pod suffered heartbreaking losses.  For us humans, being and singing together helped. We loved touring the light house and strolling through the 36-acre park.  And we enjoyed a supremely glorious sunset after everybody else had left.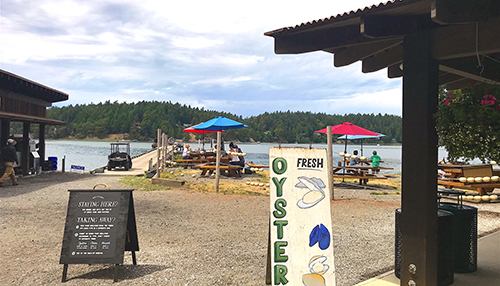 The following day we treated ourselves to lunch at the Westcott Bay Shellfish Farm on the serene bay of same name. We had visited the farm once before when it had just opened. Owners Andrea and Erik had been busy since then. In addition to shucking your own oysters and slurping them right there and then, and getting your clams and mussels for later, now we could enjoy beer and wine, local breads, salad, cheeses and Charcuterie under colorful umbrellas overlooking the oyster beds. They had built the Net Shed, a rustic venue one can rent for weddings and gatherings. The place was hopping and festive and we almost lost our hard-earned self- shucked oysters to a curious visiting puppy.
When we walked back to the car, my husband did a double turn when walking by a young couple. It turned out to be his cousin from Kansas he hadn't seen in over a decade! Only on an island…
Back in Friday Harbor, waiting for our ferry home, we strolled the docks and saw the very end of what had been the Wooden Boat and Pirate Festival. Pirate flags decorating the port railings, some exceptionally gorgeous schooners setting sail. That's Summer on San Juan Island. You don't have to plan a thing. There is always something fun going on. We will definitely be back.