San Juan Island with Baby
You know this:  Sometimes simply getting out of the house with a baby or a toddler can be a challenge, let alone going on a weekend getaway. But here's a getaway that will help you get that respite that you need (and deserve!) oh so very much:
Consider serene, super kid-friendly San Juan Island to get your toes in the proverbial and literal waters. Why? It's only 65 miles north of Seattle (with 2 rest stops on the way). The one-hour ferry ride from Anacortes is stunning, fun and rocks baby right to sleep. Once in Friday Harbor, everything--shops, restaurants, Farmer's Market--is within easy walking distance and is relatively stroller friendly (see below for more info). And there is so much to see, do and explore on the isle to inspire your senses, truly unwind and spark your curiosity.
Stay with us!
Our Earthbox Inn & Spa, just four blocks from the ferry landing, is perfect for a family getaway. We rent portable cribs, so you have more room in your car. We have coin-operated laundry facilities right on the property for, well, you know what. Every room has a microwave, mini-fridge and coffee maker, as well as a bath tub. We are the only hotel on San Juan Island with a heated indoor pool (bring those swim diapers!), hot tub, sauna and exercise room. And, as you may have guessed from our name, we are the proud purveyors of a full service onsite spa (just think: one of you can play with baby in the pool, while the other is getting a massage).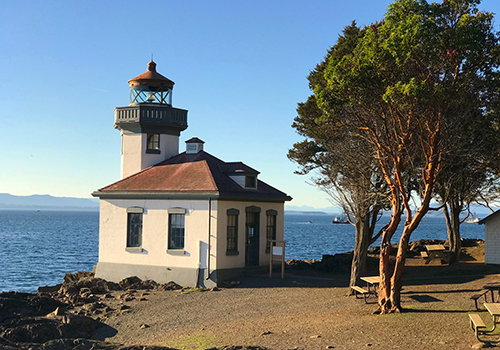 Stroller-Friendly Parks & Beaches:
An absolute must-see is the Lime Kiln State Park, also known as the whale watch park, is located on the west side of San Juan Island, about eight miles from Friday Harbor. This amazing 38-acre park features 0.2 miles of ADA and stroller accessible trails leading directly to the historic lighthouse, which doubles as an interpretive center in the Summer. This is one of the best spots to see whales from land. Bring a picnic, check out the whale watching platforms and play under the massive madrone trees as the sun sets over the Salish Sea.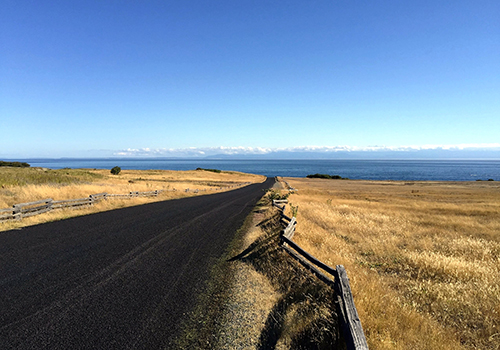 On the south end of the island, the 100 -acre American Camp National Historical Park makes for a fantastic scenic drive with breathtaking views of the blustering sea with Mt. Baker and the snow-covered Olympic mountains in the background and lovely spots to pull over and watch bunnies, foxes and Bald Eagles. The visitor's center and restrooms at the park's entrance are ADA and stroller accessible.
If it's a Baby Bjorn kind of day, there are tons of one to three-mile hikes to explore. Just ask the front desk, we love to help direct you to the perfect place to get away in nature.
Where to Eat:
Everywhere. There are 50 restaurants in walking distance to the Earthbox Inn & Spa and all, even the fancy ones, welcome kids. Come talk to us or check out the Menu Book in our lobby to find the perfect place for your mood, taste and budget. Or get some take-out and dine in your room or on one of our sunny patios.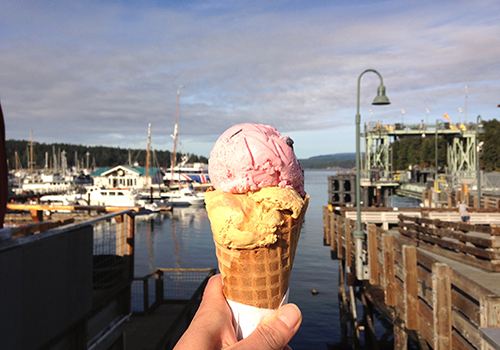 Things to do in Town:
Stroll the docks, watch the sailboats bob in the water and have a huge ice cream from the Friday Harbor Ice Cream Co. right on the water. Check out Osito's and the Toy Box, both on First Street, for the cutest baby clothes and coolest toys. Poke your head into one of the seven galleries and five antique stores in town. If your child is one or older, peruse the Kiddie Cove, an indoor play paradise for kiddos aged 1 to 10, offering drop off care, date night, babysitting or staying and playing with your child. Have fun at the fairground's playground or better yet, if you are here August 14-17, visit the fantastic San Juan County Fair.