You have cleverly chosen one of San Juan Island hotels offering complimentary beach cruisers for their guests to check out. They are sturdy, single speed bikes with balloon tires and are not meant to replace island transportation altogether. Nevertheless, you should take advantage of this free, fun, cute way to get around. Here are our Earthbox staff tips on how to best incorporate our bikes in your weekend getaway, have lovely photo opportunities, and feel like a kid again.
Text Editor
How to check out Beach Cruiser Bikes at Earthbox:
We check out our bikes on a first come, first served basis. Worry not, in our 10 plus years of offering them, we've literally never run out. Just sign a release form for you and your minors and we'll get you the code to unlock them. We offer helmets for safety. Washington State law requires people under 18 to wear one. We do not offer locks. Friday Harbor and San Juan Island are super safe. Even if somebody takes one of our bikes by mistake, everybody on the island knows them and will bring them back in a jiffy. We love that. We ask our guests to limit their bike use to four hours, but can make special arrangements if you have something bigger planned. They do need to be back by dark though, because they don't have lights.
Image
Image
Text Editor
And here, without further ado, are our favorite places to visit on our beach cruiser bikes:
Friday Harbor Farmer's Market
Our Saturday Farmer's Market is just 0.2 miles from the Earthbox and a total delight. Have lunch, buy some souvenirs, listen to live music, and get a bouquet of island flowers to ride around in your adorable bike basket for a while before decorating your hotel room with them.
Volleyball on the Beach
Gorgeous Jackson's Beach is a mile away and features a volleyball court, picnic tables, BBQ's, and public restrooms. The clear water here is shallow and calm, perfect for a quick dip on a hot day.
Image
Image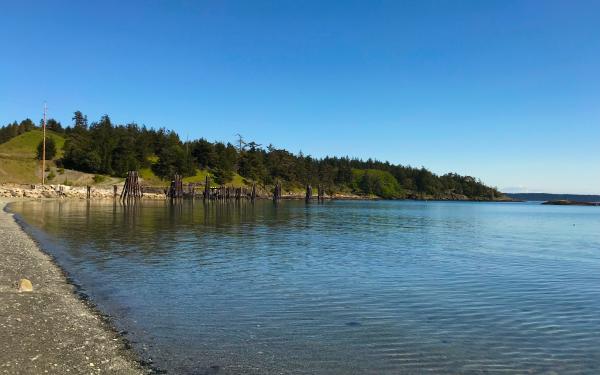 Text Editor
Golfing with a View
San Juan Golf and Tennis Club, 2.4 miles from our hotel, is situated on beautiful Griffin Bay with views of magnificent Mt. Baker. The club is open to the public year-round and offers a beautifully manicured 9-hole golf course with alternating tee boxes that convert into a long and challenging 18-hole experience. They rent clubs and carts and have an on-site restaurant.
Wine Tasting in the Valley
Ride three miles through lush Beaverton Valley to San Juan Vineyard for a wine tasting in their comfy, historic tasting room. Have a picnic on their decorative, sunny patio and bring a bottle back for later.
Image
Image